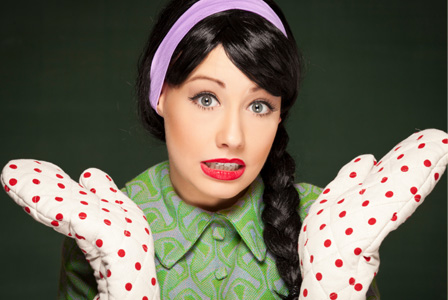 It's happened to all of us: We're in the middle of making a recipe when we realize we're out of a key ingredient. But don't panic if you have to bake without eggs. You'll be surprised at how well these easy food substitutions work.
A baking quick fix
Once you've freaked out about what you don't have, take a deep breath and take stock of what you do have. Eggs are a crucial component of baked goods because they provide moisture and volume, but fortunately you can simulate that with a number of other ingredients that you might just have around.
After successfully using these food substitutions, you may employ them for more than emergency back-up in the future. They are all vegan alternatives and, with the exception of the vegetable oil, are more heart-healthy than eggs. Using banana, applesauce and other pureed fruit in baked goods is a wonderful tactic to boost flavor and make them incredibly moist. Talk about a happy accident!
Applesauce
Use 1/4 cup unsweetened applesauce in place of one egg in most baking recipes. Some sources say to mix it with 1/2 teaspoon baking powder. If all you have is sweetened applesauce, then simply reduce the amount of sugar in the recipe. Applesauce is also a popular healthy replacement for oil in many baked goods.
Banana
Use 1/4 cup mashed banana (from about half a banana) instead of one egg when baking. Note that this may impart a mild banana flavor to whatever you are cooking, which could be a good thing!
Flax seeds
Believe it or not, hearty-healthy flax seeds can be used as an egg substitute! Simply mix one tablespoon of ground flax seeds with 3 tablespoons water until fully absorbed and viscous. Use in place of one egg. (You can use pre-ground flax seeds or grind them yourself in a spice or coffee grinder.)
Vegetable oil
Typically 1/4 cup vegetable oil can be substituted for one egg when baking. If you are short more than one egg, you will want to try another method as any more vegetable oil may make the recipe too oily or greasy.
Water, oil and baking powder
Whisk together two tablespoons water, one teaspoon oil (like corn or vegetable oil) and two teaspoons baking powder. Use this in place of one egg. When used in cookies and other baked goods, it works so well no one would ever know!
More kitchen tips
Help for holiday food emergencies
How to freeze anything
How to store leftovers properly