Restaurant
Etiquette 101
Even though they are working and you're not, it doesn't mean anything goes when it comes to restaurant staff. Etiquette and manners still apply and the relationship between the restaurant and the patron goes both ways. We've talked to restaurant owners, managers and service staff and compiled a list of the top things to do -- or never do -- when dining out.
(page 2 of 2)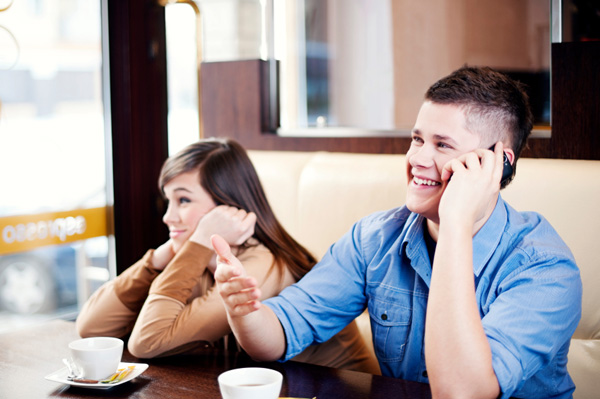 Top 5 restaurant don'ts
Switch tables without asking the host
Figuring out what parties are going where is often like a game of Tetris. On a busy night, if a table or two gets moved around, the entire arrangement could crumble, leading to chaos for staff and customers alike. If you are unhappy with the table you are seated at, speak up right away. Tell the host why you would prefer a different table and allow him or her the time to look into switching your table.
Overstay your welcome
When you're paying to dine out, you should certainly stay as long as it takes to leisurely enjoy your meal and beverages. But if you've finished dessert an hour ago and the only things left on your table are water glasses and a check, don't camp out all night. Most restaurants need to turn tables at least a couple of times in a night in order to make a profit, and it can seriously hurt them when a few tables linger well past a reasonable time frame. "I've had tables stay from the time of opening to the time of closing. Not being able to turn those tables can easily make the difference between a good night and a bad night," says restaurant owner Paul Howard. Plus, it's never fun to be the table that had a reservation but is not able to be seated because of lingering tables.
Talk on your cell phone
We've all sent a quick text here or there when dining at a restaurant, but full out conversations on your cell phone are universally against restaurant etiquette. It is extremely rude to those who are trying to serve you and is annoying for fellow customers. "I've had customers who have talked on their cell phone throughout their entire meal. I am uncomfortable speaking with and taking orders from a customer that is talking on their phone. Not only is it more difficult to serve them but it is also just plain rude," says Dinah Cohen, a NYC-based waitress. If you must make or receive a phone call, step outside the restaurant and keep it brief.
Send back a bottle because
you don't like it
The purpose of tasting a bottle of wine is not to let you decide if you like it. It is to let you discern if the bottle is oxidized or has anything wrong with it. If you're unfamiliar with most of the wine on the list, or if you want to branch out and try something new, ask to speak with the sommelier or beverage manager. Tell them what you are looking for in a wine and let them offer a suggestion before you have them open a bottle that you don't know much about. If their suggestion is nothing like what they described, then it is OK to let them know. If you chose the wine on your own and there is nothing wrong with it, then you should stick with it.
No-show for a reservation
If you've made a reservation, the restaurant is holding one of their tables specifically for you. If you're not going to make it, be sure to call the restaurant to let them know -- and give them as much notice as possible. Restaurants often turn away patrons when they have empty tables because they are saving them for those who made a reservation. There is not much that is more frustrating for a restaurant manager -- or the service staff -- than an empty table that didn't need to be.
More on etiquette
10 Etiquette rules for entertaining
10 Mealtime etiquette tips
Business lunch etiquette
Tell us
What are your dining out pet peeves? Share in the comments below!