From Shank Bone To Bitter Herbs
The holiday of Passover is a historical and religious commemoration of the plight and freedom of the Jewish people during the time of Moses. The traditional meal held at this time, the Seder, is abundant with food symbolism in the form of the Seder plate, which has six elements. Find out what each part of the Seder plate symbolizes for a more meaningful Passover dinner.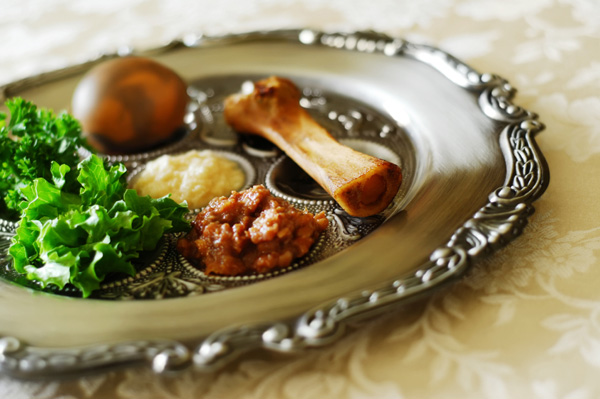 The Seder is a symbolic meal that celebrates the passage of the Jewish people from a time of bondage to a time of freedom. During the Seder, the haggadah is read to tell the story of the exodus from Egypt. Children are often called upon to explain the meaning of each item on the Seder plate, and also to read the four questions, which begin with "why is this night different from all other nights?"
Maror
Bitter herbs, usually horseradish, represent the bitterness of slavery. Grated horseradish root or jarred horseradish can be used, and is typically eaten on a piece of matzo.
Chazeret
Often only one bitter herb (horseradish) is used on Passover, but there are two places on the seder plate. In the US people typically use romaine lettuce as the second bitter herb.
Charoset
A sweet mixture of roughly chopped apples, walnuts, cinnamon and red wine, charoset represents the mortar that was used to construct the store houses by the Jewish people when they were slaves in ancient Egypt.
Karpas
Here, parsley or another green vegetable symbolizes the coming of spring. In the Ashkenazi tradition it is dipped in salt water, which represents the tears of the Jewish people when they were slaves.
Z'roa
The lamb shank bone is the one part of the Seder plate that is not eaten during the dinner. Instead, it serves as a visual reminder of the special Passover sacrificial lamb offered at the temple in Jerusalem before its destruction.
Beitzah
Often eaten with salt water, hard-boiled eggs are a symbol of life. It is also said to represent the second offerings presented at the temple in Jerusalem, sorrow at its destruction, and the hope that it will be rebuilt.
More about Passover
What to expect at your first Passover dinner
A vegetarian Seder
Passover recipes to celebrate the festival of freedom's sweet tooth