The birds are chirping and the sun is shining now that it's spring! Why not add a little seasonal fun to your Easter this year and include this gluten-free goodie to your festivities?
Chirp all about it!
Orange Chantilly cream-filled oranges made using marshmallow chicks PEEPS as the "garnish" are the cutest things around (and they taste great, too)! Chantilly cream is whipped deliciousness that you flavor with your taste of choice. In this case, orange extract adds some sunshine to this goodie! These are easy to make and everyone from kids to adults will be chirping over this irresistible gluten-free dessert!
Gluten can be found in many different foods and products, from ketchup to soy sauce to candy and seasonings. While SheKnows.com tries to ensure these recipes are gluten-free, carefully read the ingredient labels of all food and food products you use for these recipes to ensure they are also gluten-free.
Orange Chantilly cream-filled oranges recipe
Recipe courtesy of PEEPS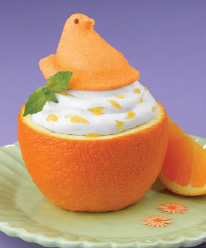 Yields 10
Ingredients:
2 packages of 5-count PEEPS Orange MarshmallowChicks
10 large navel oranges
4-1/2 cups gluten-free heavy whipping cream
1 cup gluten-free confectioners' sugar
1/3 cup orange juice
2-1/4 teaspoons gluten-free orange extract
10 sprigs fresh mint for garnish, optional
Directions:
Cut a small amount off the bottom of each orange so it sits flat.
Also cut off 1/3 of the top of the orange. This is how you'll scoop out the pulp. If you have a grapefruit spoon, this works well.
Keep the pulp from the oranges and set aside. Throw away the seeds and membrane.
Put the oranges on paper towels, top down, to allow them to drain a bit.
Meanwhile, in a large mixing bowl, add the cream and beat until it thickens. Mix in the confectioners' sugar and the orange extract.
Continue to beat until stiff peaks begin to develop. Add in the orange juice and continue beating.
Fold in the orange pulp.
When all the ingredients have been incorporated into the cream, gently spoon it into the orange shells.
Cover the oranges and refrigerate until you're ready to serve them.
Just before serving, top each orange with one of the MarshmallowChicks and a sprig of mint as the garnish.
Spring is a terrific time to serve up these tasty (and cute) gluten-free treats!
More gluten-free goodies to try
Chocolate mousse with raspberries and cream
Glazed orange chiffon cake
French-style macaroons