Easter Eggs Without The Green Ring Of Doom
At the SheKnows.com test kitchen, we adore leftover Easter eggs simply for one reason: deviled crab eggs. By cutting the hard-boiled (a.k.a. hard-cooked) eggs horizontally instead of vertically, you'll have a deeper well for stuffing it full of crabby goodness.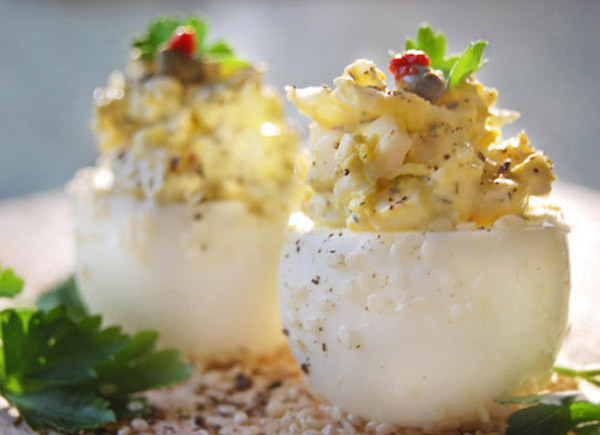 There's no mystery to hard-boiling eggs. There is one (and only one) tried-and-true method for hard cooking eggs that will eliminate that mysterious green ring around the yolk and prevent the smell of sulfur. Oh, and cracked eggs? You can (almost) kiss those goodbye with this method. And though fresh eggs are best for scrambling and frying, eggs that are a few days old will peel much easier than any egg plucked right from the hen house.
Hard boiled eggs
Serves 6
Ingredients:
6 large eggs (any variety)
water
Directions:
Place the eggs in a large saucepan and fill it with cool tap water, at least 1 inch above the eggs. Over medium heat, bring to a boil. Reduce to a simmer, then cook for 3 minutes.
Remove from heat; cover and let stand 8 minutes. Transfer the eggs to an ice bath and let stand 15 minutes. Refrigerate up to three days.
To peel, gently tap all sides of the egg on a hard surface to crack the shell. Beginning with the air pocket end (the large end), peel the shell away.
Deviled crab-filled eggs recipe
Serves 6
Ingredients:
6 hard boiled eggs
1 tablespoon sour cream
1 teaspoon Dijon mustard
2 teaspoons garlic, crushed
1 teaspoon fresh thyme leaves
1 tablespoon capers, chopped
Zest of one lemon
1/4 teaspoon celery salt
1/4 cup fennel bulb, julienned
1/4 cup celery, julienned
1 cup lump crab meat, cooked and cooled
salt and pepper to taste
Garnish:
fresh Italian (flat-leaf) parsley
fresh thyme
sesame seeds
Directions:
Slice all hard boiled eggs in half across the middle as shown above. Remove yolks and set aside in a medium bowl. Slice a very small piece off the bottom of each egg white so they stand up straight, then set aside.
Add the sour cream, mustard, garlic, thyme, capers, lemon zest and celery salt to the egg yolks. Add the fennel and celery; gently mix until coated with the sour cream mixture. Taste for seasoning and add salt and pepper as needed.
Add the crab and gently fold into the sour cream mixture until incorporated. Be careful not to shred the crab meat.
Using a spoon or melon-baller, fill the cavity of the white portions of the eggs with two heaping tablespoons of the crab mixture. Garnish with thyme, parsley, capers and sesame seeds.
Hard boiled egg FAQ's
Can I add vinegar to the cooking water to prevent the shell from cracking?
Yes, but the vinegar doesn't really prevent the cracking. As with poached eggs, the vinegar helps to coagulate the egg whites so they don't roam far from their point of origin. As long as you bring the water up to a boil slowly and gently remove the pan from the heat once it comes to a boil, the eggs should remain crackle-free.
The dye from my eggs penetrated the whites. What should I do?
As long as it's a food-safe dye, eat the eggs as planned. If you need beautiful, bright white eggs for presentation, you'll have to cook additional eggs and skip the dye.
Sounds delicious, but what's so devilish about this egg recipe?
The term "deviled" usually refers to anything spicy — mustard, hot sauce, red peppers, cayenne. In this case, it's Dijon mustard.
I'm a traditionalist. Can I skip the crab and just do a traditional deviled egg recipe?
You bet! In fact, you can fill the hard boiled eggs with absolutely anything. Try chicken salad, lobster salad, artichoke and spinach dip, guacamole or saffron mayonnaise.
More Easter recipes
Easter recipes for the whole family
Easy elegant Easter recipes
Low-carb easter recipes