Baseball is back and what better way to ring in the new season than having an old fashioned, All-American barbecue? With your friends and family over for an afternoon of catching the first pitch, you're going to have to find a way to feed them. If barbecuing is a little overdone at your place, try some gourmet twists on classic stadium foods. These tasty treats will tantalize your taste buds from pitch-to-pitch, working well past the seventh inning stretch.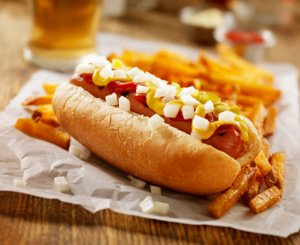 Haute dogs here!
Hot dogs are abundant at any baseball event, whether it's at the stadium or on your home plate. Forget the mystery meat dripping in water and slopped between a fall-apart bun. Know what you're putting into your franks and put together these delicate dogs for your teammates.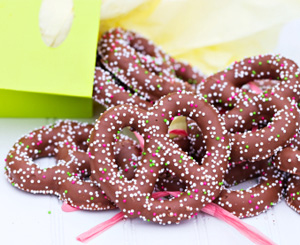 Twist on a twist
Pretzels are a little bland, no? You could pay $7 for a bag of chocolate pretzels that'll melt with you in the white hot bleachers or you could throw your guests a curve ball and try your hand at this fresh take on a classic. The perfect blend of sweet and salty, these pretzel snacks will be a home run.
Want more?
Check out this other great idea for a baseball themed food party >>
More spring party ideas
Simple spring cocktails & mocktails
How to host a spring birthday party
Spring cocktails