(page 2 of 2)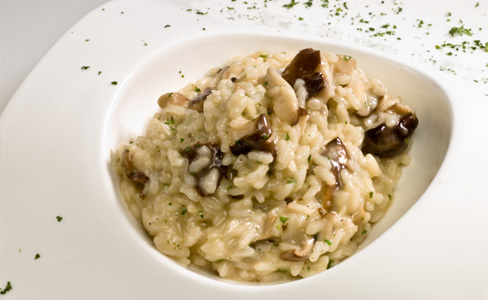 Chef Wolfgang Puck will serve the stars his carefully crafted menu of elegant comfort food. Elevate your guests to star status and serve them one of Chef Puck's dishes.
Oscars-caliber recipes
Wild mushroom risotto recipe
Recipe courtesy of Wolfgang Puck
Serves 4
Ingredients:
1/2 cup olive oil
1/2 pound (1 medium) onion, minced fine
1 large garlic clove, minced
2 cups Arborio rice
1 cup dry white wine
2 cups mushroom stock, heated
5 cups organic chicken stock, heated
3 tablespoons olive oil
1/2 pound wild mushrooms, stems reserved for stock
Salt
1/4 cup (1 medium) tomato, peeled, seeded and chopped
4 tablespoons (2 ounces) unsalted butter, chilled, and cut into small pieces
2 ounces (1/2 cup) grated Parmesan cheese
Large pinch chopped Italian parsley
Freshly ground pepper
Directions:
In a medium-size heavy saucepan, heat the olive oil. Over medium-high heat, sauté the onion and garlic just to soften, stirring all the while, three to four minutes. Add the rice and continue to stir, using a wooden spoon, coating the rice with the oil and onion.
Deglaze with the white wine and cook until the liquid is absorbed, stirring often. Pour in enough mushroom and/or chicken stock to cover, about three cups, and cook, stirring often, until the liquid is absorbed.
Meanwhile, in a medium skillet, heat the three tablespoons of olive oil. If the mushrooms are large, cut them into bite-size pieces and sauté over medium-high heat just to soften, three to four minutes.
Pour three cups of stock into the rice, turn the flame to high, and stir in a large pinch of salt and the tomato. Stir until almost al dente. Stir in the mushrooms and the remaining one cup of stock, as necessary. Remember that the risotto should be creamy, not runny. Remove from the flame and vigorously beat in the chilled butter and 1/4 cup of the Parmesan cheese until completely dissolved. Stir in the parsley, and season with salt and pepper to taste.
Divide among four heated plates and serve immediately. Pass the remaining 1/4 cup of Parmesan cheese.
Baked macaroni and cheese recipe with black truffles
Recipe courtesy Wolfgang Puck
Serves 4
Ingredients:
8 ounces elbow macaroni
3 tablespoons butter
3 tablespoons flour
3-1/2 cups milk
1/2 medium white onion
1 bay leaf
1 teaspoon Kosher salt
1 teaspoon black pepper
Pinch cayenne
3 tablespoons finely chopped black truffles
10 ounces sharp aged white cheddar, grated
3 ounces Gruyère cheese, grated
1 ounce Parmesan cheese, grated
2 drops black winter truffle oil
3 tablespoons butter
1 cup brioche breadcrumbs
2 tablespoons chopped parsley
Sliced fresh black truffles for garnish (optional)
Directions:
Preheat oven to 350 degrees F.
In a large pot of boiling salted water, cook the macaroni to al dente (approximately seven minutes). Strain and place on a lightly oiled sheet pan.
While the macaroni is cooking, in a separate pot, melt the butter and whisk in the flour. Continue to cook over low heat for four minutes stirring constantly. Add the milk, chopped truffles, onion and bay leaf. Simmer for 10 minutes. Remove onion and bay leaf.
Turn off the heat and add 3/4 of the aged cheddar and all of the other cheeses. Season with salt and black pepper and fold in macaroni. Pour into a 2-quart casserole dish. Top with remaining cheddar.
Melt the butter in a sauté pan and toss breadcrumbs and parsley to coat. Top the macaroni with breadcrumb mixture. Bake for 30 minutes. Remove from the oven and let stand for about five minutes. Serve with fresh shaved black truffles.
Don't forget the drinks
Moët & Chandon, the official Champagne of the Oscars, will be flowing Sunday night (did we mention 1,000 bottles will be served?). What better way to toast the night than with the same Champagne cocktail served at such a wonderful fête!
Chicago native Adam Seger developed the Moët Red Carpet Glamour Cocktail that dazzled the judges of the Moët Oscar Cocktail Contest. Adam's drink "highlights the flavor profile of Champagne and celebrates the elegance of the Academy Awards."
Moët Red Carpet Glamour Cocktail recipe
Ingredients:
Moët & Chandon Imperial Champagne
1 ounce fresh squeezed sour mix (below)
Hum® Botanical Spirit
Fresh ice
Fresh squeezed sour mix:
1 cup sugar
1 cup water
1 cup fresh lemon juice
1 cup fresh lime juice
Directions:
Combine the sugar and water. Mix until the sugar is dissolved. Add the lemon and lime juice and refrigerate.
Fill a chilled Champagne flute halfway with ice.
Stir in one ounce of fresh squeezed sour mix and Hum® Botanical Spirit with fresh ice.
Strain the liquid into the flute, halfway full.
Top with Moët & Chandon Imperial Champagne.
Garnish with a single rose petal.
Continually refresh as you'd like with Moët & Chandon Imperial Champagne.
Cheryl says that it's important to accommodate your guests by meeting any special dietary needs. Again, if you can plan in advance, things work out much better. But to be on the safe side, plan to have something for just about everyone.
The key to a great Oscars party at home?
"Really try to include a lot of different elements, whether it's movie posters or music or soundtracks from the films. Create ballots for your party and guess who the winners will be," says Cheryl. "Just have fun among yourselves."
A final tip from Cheryl? "Connect the dots by connecting the elements of the event with each other." With expert advice, your party can be as festive as the Governors Ball.
Check out more Oscars fun via the Oscars Party Blog!

More Oscars-inspired fun
From the Oscars to your kitchen with Wolfgang Puck
Oscar nominee-inspired cocktails
Oscars-inspired best picture menu