(page 2 of 2)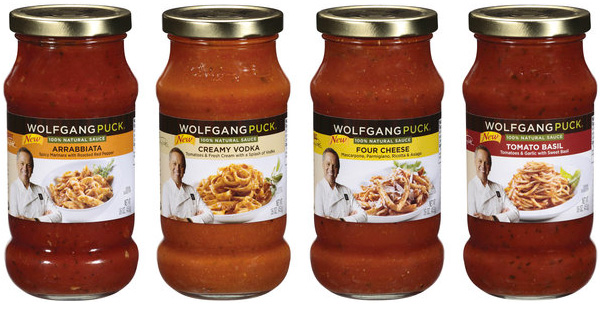 If you're looking for a little help in the kitchen, try Wolfgang Puck's new line of pasta sauces. The Italian sauces are available in four varieties:
Arrabbiata - Spicy marinara and roasted red peppers combine for a distinctive sauce with a real kick.
Creamy Vodka - A combination of tomatoes and fresh cream is finished with a splash of vodka.
Four Cheese - Parmigiano, ricotta and Asiago cheeses are combined with tomatoes, fresh garlic and cracked black pepper and then finished off with mascarpone cheese for a sweet and unexpected creaminess.
Tomato Basil - A blend of tomatoes, garlic and sweet basil makes this sauce a great way to bring classic Italian dishes to the next level.
A celebrity-chef meal is easier than you think! Try this chicken recipe developed exclusively by Wolfgang Puck: 
Chicken breast recipe with ham, provolone, rosemary and Wolfgang Puck's Creamy Vodka Pasta Sauce
Serves 8
Ingredients:
4 chicken breast halves, skinless, boneless, about 8 ounces each
4 slices prosciutto or any thinly-sliced ham
4 slices provolone cheese
3 tablespoons extra virgin olive oil
Pinch of chili flakes
1 tablespoon fresh rosemary, chopped
2 tablespoons white wine
Kosher salt, freshly ground black pepper, to taste
12 ounces Wolfgang Puck's Creamy Vodka Sauce
4 tablespoons buttered breadcrumbs
Basil oil, for garnish
Fried basil leaves, for garnish
Directions:
Pound the chicken breasts with a mallet until they are 1/4-inch thick; then season each piece with salt and freshly ground black pepper.
Place one slice of ham and cheese on each. Tuck in sides and roll up like you would a jellyroll. Skewer with a bamboo skewer or tie. In a medium size bowl, add olive oil, pinch of chili flakes, rosemary, white wine, salt and pepper and Wolfgang Puck's Creamy Vodka Sauce. Whisk ingredients together and pour into a baking dish. Place rolled chicken breast on top of sauce.
Sprinkle the top of the chicken with buttered breadcrumbs, cover with parchment paper and aluminum foil, and place in preheated 400 degree F oven for 20 minutes. Remove foil and continue to cook chicken breasts until breadcrumbs turn golden brown, about five minutes.
Remove from oven and let stand for five minutes before serving.
Garnish with a little basil oil and fried basil leaves.
More SheKnows Oscar-inspired recipes
Academy Award nominee-inspired cocktail recipes
Oscars movie-themed dinner menu
Low carb Oscar party recipes
Photo credit: WENN.com/Ian Wilson/WENN.com