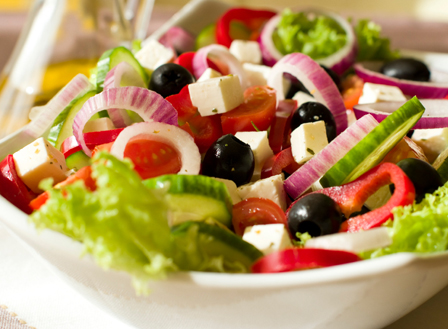 Are you watching your waistline? Sticking with salads is a great way to do it, but be careful. Munching on nothing but leafy greens will just leave you hungry and lead to snacking later, so pack on the protein and fiber for a salad that will fill you up.
Put a stop to snacking
Greek salad
A Greek salad is refreshing, healthy and filling. The fresh veggies give you tons of fiber, and the heart-healthy fat from the olives will help you power through the day. To make it even more filling, add a small piece of bread on the side -- no spread needed. Just dip it in the juices from the salad!
Ingredients:
1 medium cucumber, peeled, seeded and chopped
3 large plum tomatoes, seeded and chopped
1/2 red onion, chopped
1 bell pepper, chopped
1 cup Kalamata olives
1/2 cup olive oil
2 tablespoons lemon juice
1 tablespoon red wine vinegar
1/2 teaspoon garlic, chopped
1/2 teaspoon dill weed
1/2 teaspoon oregano
1/2 cup feta cheese (or more, if you prefer)
Directions:
In a large bowl, combine the cucumber, tomatoes, onion, bell pepper and Kalamata olives.
In a medium bowl, whisk together the olive oil, lemon juice, red wine vinegar, garlic, dill weed and oregano.
Pour dressing over salad and toss. Sprinkle with feta cheese.
Tomato, tuna and spinach salad
Spinach salads are a great way to lose weight. They're packed with nutrients and proteins, yet super low on calories (meaning they fill you up, but don't fill you out). If you're not much of a spinach eater, try mixing the spinach leaves in with your choice of leafy greens. This salad tops spinach with light and protein-rich tuna, so it'll keep you full until dinner.
Ingredients:
1/2 cup mayonnaise
1/4 teaspoon salt
Pepper to taste
12 ounces chunk light tuna in olive oil, drained
1/3 cup red onion, diced
2 stalks celery, chopped
8 cups spinach (or mixed greens)
1 pound tomatoes, wedged
Directions:
Mix the mayonnaise with the salt and pepper.
Add the tuna, red onion and celery. Combine.
Serve the tuna mixture on top of a bed of spinach, topped with tomato wedges.
Tip
Think red onions are too harsh? Soak chopped red onions in cold water for 20 minutes before adding them to your salad. They'll be less hot and more sweet!
Southwestern black bean salad
This salad is packed with fiber and protein. It works great as a side dish, appetizer or stand-alone lunch. Serve it on tortillas for a fun way to dress it up.
Ingredients:
1 15-ounce can black beans, rinsed and drained
1 15-ounce can corn, drained
1 large tomato, chopped
1 small avocado, chopped
1/4 cup red onion, chopped
2 green onions, chopped
1/3 cup lime juice
3 tablespoons olive oil
Salt and pepper to taste
Directions:
In a large bowl, combine black beans, corn, tomato, red onion and green onions.
Pour lime juice and olive oil over mixture and mix until well coated.
Refrigerate for at least 30 minutes or until chilled. Add avocado just before serving.
Rice and pinto beans over greens
Warm rice and beans with a southwestern kick take on a whole new twist when served over a plate of your favorite leafy greens. The rice and beans fill you up, and you don't need as much when you spread it all over lettuce and turn it into a salad.
Ingredients:
2 cups prepared brown rice
1/4 cup olive oil
1/4 cup white vinegar
1 teaspoon ground cumin
1 teaspoon dried oregano
1 large clove of garlic, peeled and crushed
1/4 teaspoon salt
1/2 teaspoon pepper
2 15-ounce cans pinto beans, rinsed and drained
6 green onions, chopped
1 medium red or yellow bell pepper, chopped
Directions:
Cook brown rice and set aside.
In a blender or food processor, combine oil, vinegar, ground cumin, oregano, salt, pepper and garlic until dressing is well combined and the garlic is finely chopped.
In a large bowl, combine rice, beans, green onions and bell pepper. Pour dressing over mixture and stir until well coated. Serve over lettuce or your favorite greens.
Apple and cheddar spinach salad
This salad mixes apples and spinach for a huge burst of fiber. The protein in the spinach and cheese will help you keep the midday snacking at bay.
Ingredients:
1/3 cup olive oil
2 tablespoons apple cider vinegar
1 teaspoon Dijon mustard
1/4 cup sour cream
2 green onions, finely chopped
1/4 teaspoon salt
Pepper to taste
Tabasco sauce to taste
1 pound of spinach
2 tart apples, cored and diced
2 tablespoons lemon juice
1/3 cup slivered almonds
1-1/2 cups cheddar cheese, grated
Directions:
Mix olive oil, vinegar, mustard, sour cream, green onions, salt, pepper and a splash of tabasco sauce. Taste the dressing before adding more tabasco sauce. Cover and chill for one to two hours.
Rinse spinach well and tear it into bite-sized pieces, removing any thick stems.
Toss apples in lemon juice to prevent browning.
Place spinach in a large bowl. Top with apples, almonds and cheese. Drizzle with dressing and toss just before serving.
More about salads
How to eat healthy at the salad bar
Is your salad safe?
Cooking 101: Basic salad greens