Why not celebrate the Academy Awards by serving dishes inspired by the Best Picture nominees? Your dinner guests will love getting into the spirit of Hollywood's iconic film gala.
This year's nominees make for a wonderful variety of themed dishes. Here are our predictions for who has the best shot at winning Best Picture. Do you agree?
Cheesy nachos with black beans and corn recipe
Moneyball: To get into the baseball spirit of this movie, serve these warm cheesy nachos fresh out of the oven. Let them start weighing in on what movie they think will win the big prize!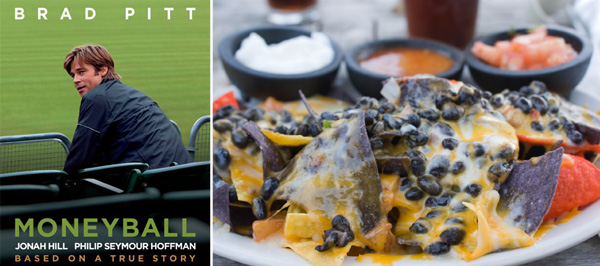 Makes 6-8 servings
Ingredients:
1 large bag of nacho chips
Vegetable spray
1 can black beans, rinsed and drained
1 cup yellow sweet corn
1 cup shredded cheddar cheese
1 large tomato, seeded and diced
1/2 cup diced red bell pepper
1/2 cup diced red onion
1/4 cup jalapeno peppers, diced (or to taste)
Green onions, diced
Sour cream for serving
Guacamole for serving
Directions:
Heat oven to 350 degrees F. Spray a large baking sheet with vegetable spray. Spread the chips in a single layer and distribute the black beans and corn over the chips. Sprinkle the cheddar cheese on top. Bake in the oven until the cheese is melted.
Remove pan from the oven and place nachos onto serving platter. Sprinkle with tomatoes, bell pepper, onion, green onions, jalapeno peppers and green onions.
Serve with sour cream and guacamole.
Crispy fried chicken recipe
The Help: There is clearly no better choice for this movie besides Minny's fried chicken unless of course you want Minny's special chocolate pie.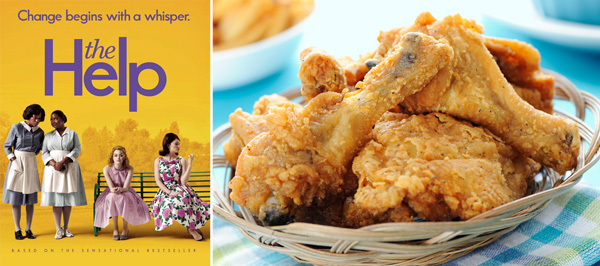 Makes 8 fried chicken pieces
Ingredients:
1 whole frying chicken, cut into 8 pieces
Vegetable oil for frying
3 tablespoons paprika
2 tablespoons cayenne pepper
1 tablespoon onion powder
1 tablespoon dried oregano
1 tablespoon pepper
2 tablespoons salt
2 cups buttermilk
2-1/2 cups flour
2-3 beaten eggs, with a dash of buttermilk
Directions:
Mix together paprika, cayenne pepper, onion powder, oregano, pepper and salt in a small bowl. Reserve about 1/4 of the mix. Rub the rest of the spice mixture onto the chicken pieces and place in a bowl. Pour buttermilk over the chicken and cover with plastic wrap. Place in the refrigerator and marinate for about one hour.
Heat vegetable oil in a large cast iron skillet. Remove chicken from the refrigerator and drain.
In a bowl, stir together the flour and the remaining spice mixture.
Whisk the eggs and buttermilk in a shallow bowl. Dredge chicken pieces in the flour mixture. Dip each piece of chicken in the eggs and then dredge the chicken pieces back in the flour mixture, coating the chicken completely.
Carefully lay chicken into the hot oil. Fry the chicken pieces for five to six minutes on each side, until crispy and golden brown. Remove the chicken from oil and drain on paper towels. Season with salt and pepper.
Fancy Hawaiian pizza recipe
The Descendants: For a film that takes place in Hawaii, enjoying a slice of Hawaiian pizza only seems fitting.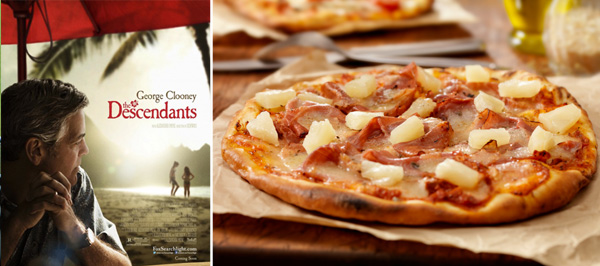 Makes 2 pizzas
Ingredients:
Olive oil
1 large onion sliced
2 ready-made pizza crusts (like Boboli 8-inch 100 percent whole wheat)
1 (8 ounce) ball fresh mozzarella
Sliced fresh tomatoes, to taste (optional)
Sliced or diced fresh pineapple, to taste
8-10 slices prosciutto
2 handfuls of basil or arugula
Directions:
Heat oven to 450 degrees F.
In a skillet, heat a pan with olive oil and add sliced onions. After five minutes, add a generous pinch of salt and cook for 15-20 minutes until caramelized. Set aside.
Place pizza crusts on a large baking sheet. Spread mozzarella, tomatoes and pineapple evenly on each crust. Bake for 10-15 minutes until cheese is melted and bubbly.
Remove pizzas from oven and top with caramelized onions, prosciutto and greens.
Healthy black and white cookie recipe
The Artist: A French film depicting 1930s Hollywood glitz and glam made in black and white. Serve these delicious cookies at the end of the night.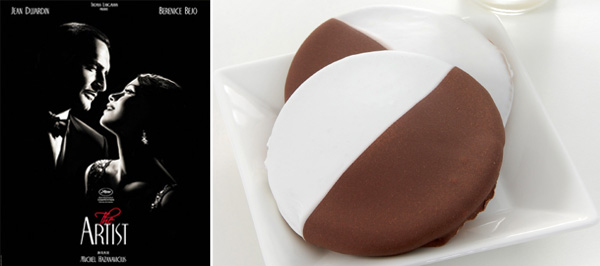 Makes about 10 cookies
Ingredients:
1-1/2 cups whole wheat flour
A heaping 1/2 teaspoon baking soda
1/3 cup plain yogurt
1 teaspoon vanilla
1/2 cup coconut oil
1/2 cup sugar
1 tablespoon maple syrup or agave nectar
1 egg
For black & white icings:
1 cup confectioners' sugar
1 tablespoon maple syrup or agave nectar
1 tablespoon lemon juice
1/2 teaspoon vanilla
2-3 tablespoons water
1/2 cup unsweetened cocoa powder
Directions:
Heat oven to 350 degrees F.
In a bowl, mix flour, baking soda and salt together. In a separate small bowl, combine yogurt and vanilla.
Whisk together coconut oil, sugar and maple syrup in a large bowl with an electric mixer until fluffy, about three minutes; then add the egg until thoroughly combined. Mix in the flour and yogurt mixture alternately in batches at low speed. Mix until smooth.
Onto a large buttered baking sheet, spoon 1/4 cups of cookie batter about two inches apart. Bake in the oven for about 15-17 minutes, until cookie tops are puffed and lightly golden. Transfer with a spatula to a rack and cool for about five to seven minutes.
While the cookies cool, make the icing. Stir together confectioners' sugar, maple syrup, lemon juice, vanilla and a tablespoon of water in a bowl until smooth. Transfer half of the icing to another small bowl and stir in cocoa. Add water to create the same consistency as white icing.
To ice the cookies, have the cookies flat sides up. Spread white icing over half of each cookie and chocolate over other half. Cool before serving.
More on the Academy Awards
2012 Oscar race begins: The ballots are in the mail
Who bought Orson Welles' Citizen Kane Oscar?
Ben Stiller says comedians get no love from Oscar
Photo credit: ©A.M.A.P.S.®