(page 2%20%20 of 2)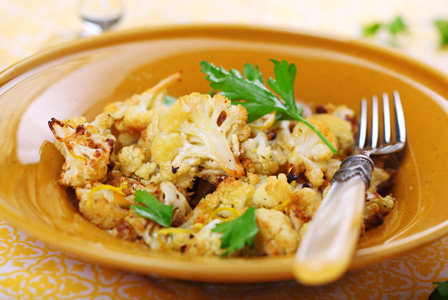 Cauliflower is one of the most underutilized vegetables in the cruciferous family -- its relatives include broccoli, Brussels sprouts and cabbage.
In season now: Cauliflower
How to use cauliflower
Raw - Snacking on raw cauliflower is one of the best ways to take advantage of its health benefits. Or for a fun, low-carb twist on pasta salad, try making a tri-color cauliflower salad instead. Cut colored cauliflower into tiny florets and toss with cooked quinoa in a lemon tarragon vinaigrette.
Steamed - Steaming is a great way to simply cook cauliflower. Cook florets in a steaming basket over boiling water for five to eight minutes or until just tender. Toss with a little lemon juice, olive oil and salt and pepper for a simple and tasty side dish.
Sautéed - Break the head up into tiny florets, about the size of a grape, and sauté in a little olive oil until they are nicely caramelized. During the last 30 seconds of cooking, throw in some minced garlic and toss with fresh thyme and parsley.
Mashed - Steam florets until very, very tender (about 12 minutes) and then mash them in a saucepan, just as you would potatoes, with a little milk, butter, salt and pepper and a few grates of nutmeg.
Pureed - To make a wonderful soup, steam the cauliflower just as you would if you were mashing it, but instead puree it in a blender. Thin out the blended mixture with more milk or vegetable stock. Top with crispy bacon and chives for a satisfying winter soup.
Roasted - Roasting on a high temperature caramelizes the cauliflower and brings out its natural sweetness. Roast the florets in olive oil and then toss with Kalamata olives and capers for a tasty Mediterranean-style side dish or try this curried version:
Oven-roasted curried cauliflower recipe
4 servings
Ingredients:
1 head cauliflower, cut into small florets
2 tablespoons olive oil
1 tablespoon lemon juice
1 tablespoon curry powder
1 teaspoon paprika
1/2 teaspoon salt
 2 tablespoons fresh cilantro, chopped
Directions:
Preheat oven to 350 degrees F. Toss the cauliflower florets in a large bowl with the olive oil, lemon juice, curry powder, paprika and salt. Spread out on a single layer on a rimmed baking sheet and roast for about 30 minutes or until caramelized and tender.
Transfer to a serving platter and top with cilantro.
More cauliflower recipes
Cauliflower quiche
Roasted cauliflower farfalle
Cauliflower soup drizzled with lemon oil