Anyone who has watched Semi-Homemade Cooking on the Food Network knows that host Sandra Lee enjoys a cocktail — she ends each show by shaking one up.
So it's only fitting that for her ideal Super Bowl party menu, Lee teamed up with Jose Cuervo, Guinness, Crown Royal and Captain Morgan to create spiked finger-food recipes, including wings and ribs.
"It just adds a depth of flavor that you don't get anywhere else," Lee says of cooking with alcohol. "When you use it in a marinade, it breaks down the meat faster so that you can get it on the grill quicker."
Lee, who is in Indianapolis now for Super Bowl XLVI, says that classic tailgate food and recipes like beer-soaked brats reminds her of her days in the Midwest. She used to live in Wisconsin.
"My best friend from high school and I had planned to come to the Super Bowl because we thought the (Green Bay) Packers were going again. We went to high school and college in Wisconsin," she says. "But I'm happy the Giants are going this year. I live in New York and I love everything New York. So, if it wasn't the Packers, it had to be the Giants."
Here, Lee shares her ultimate Super Bowl party recipes:
Crown wings recipe
For Lee, entertaining on Super Bowl Sunday is all about classic appetizers with extra special twists, like this chicken wings recipe spiked with Crown Royal.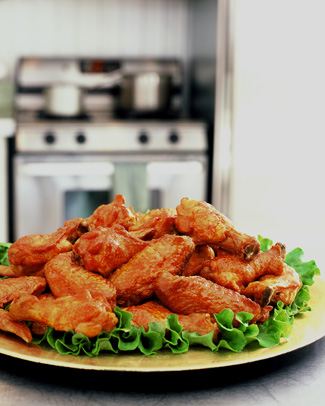 Recipe courtesy of Sandra Lee
Serves 4
Ingredients:
1/3 cup Canadian whiskey, Crown Royal®
1/3 cup honey, SueBee®
1/4 cup soy sauce, Kikkoman®
2 tablespoons Thai chili sauce
1 packet (0.75 ounce) stir-fry seasoning, Sun Bird®
2 teaspoons crushed garlic, Gourmet Garden®
4 pounds chicken wing drumettes
3 scallions (green onions), finely chopped (optional)
1/4 cup chopped peanuts, Planters® (optional)
Directions:
In a large bowl, combine whiskey, honey, soy sauce, chili sauce, stir-fry seasoning and garlic. Add drumettes, tossing to coat. Cover with plastic wrap and marinate in refrigerator for at least three hours, preferably overnight.
Set up grill for direct cooking over medium-high heat. Oil grate when ready to start cooking. Let drumettes stand at room temperature for 30 minutes. Place on hot, oiled grill. Cook for 12 to 18 minutes or until cooked through, turning occasionally. Transfer chicken to a platter. Sprinkle with chopped scallions and peanuts (optional).
Indoor recipe:
Prepare chicken as directed. Preheat broiler. Place chicken on foil-lined baking sheet or broiling pan. Broil six to eight inches from heat source for 12 to 15 minutes or until cooked through, turning occasionally.
Guinness brats & kraut recipe
The brats and sauerkraut soak together in Guinness so that all of the flavors come together. Cradle the brat with a nicely textured bun, perhaps a wheat variety — a hot dog bun just won't cut it here.
Recipe courtesy Sandra Lee
Serves 6
Ingredients:
3 (12 ounce) bottles Guinness
6 brats
1 large jar sauerkraut
6 sesame brat buns, or hot dog buns
Dijon mustard, or yellow mustard
Directions:
Pour Guinness into a pot and heat over medium heat.
Place brats and kraut in Guinness and simmer for approximately 10 minutes.
With tongs, remove brats from beer and place one in each bun. Using a slotted spoon, cover brat in sauerkraut. Drizzle mustard on top of kraut.
Baby back ribs with football sauce recipe
Why grab barbecue sauce off the store shelf when all of the ingredients to make your own are already in your pantry? This football sauce for baby back ribs is made with Jose Cuervo Especial tequila, plus staples like molasses, chili sauce and soy sauce.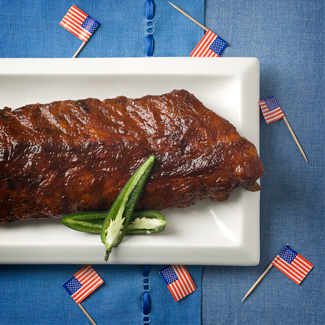 Recipe courtesy of Sandra Lee
Serves 4
Ingredients:
3 racks pork baby back ribs
1/3 cup All-Purpose Pork Rub
2 teaspoons dry mustard, Coleman's®
For the football sauce:
1 bottle chili sauce, Heinz®
1/2 cup packed brown sugar, C&H®
1/2 cup tequila, Jose Cuervo Especial®
1/4 cup molasses, Grandma's®
2 tablespoons Worcestershire sauce, Lea & Perrins®
2 teaspoons Montreal steak seasoning, McCormick® Grill Mates®
2 tablespoons soy sauce, Kikkoman®
1/4 teaspoon liquid smoke, Wright's®
Directions:
Soak two cups hickory wood chips in water for at least one hour. Set up grill for indirect cooking over medium heat.
Remove thin membrane from the back of ribs; set aside. In a small bowl, combine All-Purpose Pork Rub with dry mustard. Sprinkle over ribs and pat in.
Drain wood chips. Add some of the soaked wood chips to the smoke box if using gas grill or place chips on hot coals if using charcoal. Place ribs on rib rack on hot grill over drip pan (or place ribs, bone sides down, directly on hot grill over drip pan). Cover grill. Cook for two to 2-1/2 hours. Rotate ribs around rack every 30 minutes. If using charcoal, add 10 briquettes and a handful of soaked wood chips to each pile of coals every hour. If using a gas grill, add a handful of soaked wood chips to the smoke box every hour.
For the football sauce, in a medium saucepan, combine chili sauce, brown sugar, Jose Cuervo, molasses, Worcestershire sauce, steak seasoning, soy sauce and liquid smoke. Bring to a boil; reduce heat. Simmer for 10 minutes. Remove from heat; set aside.
About 20 minutes before ribs are done, remove ribs from rib rack and place, meat sides down, on grill. Generously brush with the football sauce; stack ribs over the drip pan. Cover and cook for 10 minutes. Turn ribs; brush with additional sauce and restack. Cook 10 minutes more or until tender. Serve hot with the football sauce on the side.
Indoor method:
Prepare ribs as directed. Preheat oven to 350 degrees F. Place ribs, bone sides down, on a wire rack in a shallow roasting pan. Cover tightly with aluminum foil. Bake in oven for one hour. Meanwhile, make the football sauce as directed. Remove ribs from oven and carefully drain fat from roasting pan. Continue baking ribs, uncovered, for 30 to 45 minutes more or until tender, turning and brushing occasionally with sauce during the last 20 minutes of cooking. Serve as directed.
Spiced rum footballs cookie recipe
Bake these right before the doorbell rings. The amazing smell that fills your home will let guests know they've chosen the right Super Bowl party.
Recipe courtesy of Sandra Lee
Yields 30 cookies
Ingredients:
1 pouch (17.5 ounce) sugar cookie mix, Betty Crocker®
1/2 cup all-purpose flour
1/4 cup packed brown sugar, C&H®
2 teaspoons pumpkin pie spice, McCormick®
1-1/2 teaspoons ground ginger, McCormick®
1/4 teaspoon ground cloves, McCormick
1/4 teaspoon black pepper
1 stick (1⁄2 cup) butter, melted
1 egg
1 tablespoon full-flavor molasses, Grandma's®
1-1/2 tablespoons dark rum, Captain Morgan®
1/4 cup granulated sugar
1 tablespoon ground cinnamon, McCormick®
Directions:
Preheat oven to 375 degrees F. Line two cookie sheets with parchment paper. In a large bowl, stir together cookie mix, flour, brown sugar, pumpkin pie spice, ginger, cloves and pepper. Add butter, egg and molasses, stirring with a wooden spoon until dough forms.
Combine granulated sugar and cinnamon. Roll a heaping tablespoon of the dough into a ball. Roll dough ball in cinnamon-sugar.
On a lightly floured surface, use a rolling pin to roll dough to 1⁄8-inch thickness. Use 2- to 3-inch football cookie cutter to cut out cookies.
Place two inches apart on prepared cookie sheets. Bake for 14 to 16 minutes or until edges are golden brown. Cool on cookie sheets for five minutes. Transfer to wire racks; let cool.
Touchdown margarita recipe
Pre-made margaritas are a hostess' dream. Adding a fresh ingredient, like muddled blueberries, is an easy way to make it feel special.
Makes 1 drink
Ingredients:
1-1/2 ounces Jose Cuervo® Authentic Light Margarita
12 blueberries
4 ounces crushed ice
Directions:
Muddle blueberries.
In a rocks glass, combine Jose Cuervo® Light Margarita and blueberries and stir until blended. Add ice.
More Super Bowl party recipes
Buffalo chicken lettuce wraps
An easy guacamole recipe
Healthy Super Bowl dips
Photo credit: Andres Otero/ WENN.com