Rich Flavor Instantly
Beef stock adds intense, rich flavor to recipes without adding many extra calories or fat. Keep it on hand to add flavor and complexity to your recipes.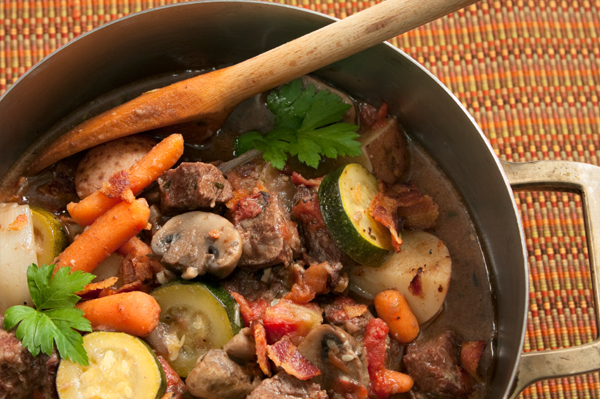 Create super slow-cooker stews
Using beef stock as the base for your next stew will give your recipe more flavor than ever. Just shake the uncooked stew beef in a paper bag with a cup of flour and a pinch of cayenne or chipotle pepper. Sear it quickly on all sides in a hot pan with about a tablespoon of olive oil, and add it to a slow cooker. Add baby carrots, chunks of celery, onions, mushrooms, potatoes and enough beef broth to cover. Turn the heat to low as you head out the door, and return to a fragrant house and ready-made dinner eight hours later.
Brunch cocktails
Bloody Marys are popular beverages for brunch, but when you make the drinks with beef stock, you'll become a brunch diva in the minds of your guests. Just substitute beef stock for half of the tomato juice in your favorite Bloody Mary recipe, and add a dash of hot sauce.
Invite stock to your next saute
The next time you are sauteing mushrooms or onions, add about 1/2 cup of beef stock per pound of vegetables at the end of your saute time. Allow the liquid to simmer and reduce for 15 minutes or more. Don't let the pan go dry, but the vegetable mixture shouldn't be soupy, either.
The vegetables soak up the flavor of the stock and are delicious spooned over roast beef, hamburgers or steaks.
Salad dressing
Who would have guessed that beef stock would add a complex flavor to homemade vinaigrettes and salad dressings? Substitute a little stock for part of the liquid called for in your favorite recipe or try this recipe from Knorr and you will be a believer, too.
Warm Bacon and Shallot Spinach Salad
Serves 8
Ingredients:
4 slices bacon, chopped
1 large shallot or small onion, finely chopped
1/2 cup water
1 tub Knorr® Homestyle Stock -- beef
2 tablespoons apple cider vinegar
2 tablespoons pure maple syrup
2 tablespoons olive oil
11 ounces baby spinach leaves
2 apples, peeled, cored and diced
1/4 cup dried cranberries, optional
Directions:
Cook bacon in a 2-quart saucepan until crisp. Remove the bacon and set aside. Pour off the drippings, reserving 2 tablespoons.
Cook the shallot in the reserved drippings over medium-high heat. Stir occasionally until golden brown, about 4 minutes.
Stir in the water and beef stock. Bring to a boil.
Stir in the vinegar, maple syrup and olive oil. Reduce heat to low and simmer for 2 minutes, stirring frequently.
Season with ground black pepper to taste.
Arrange the spinach, apples, cranberries and bacon on a large serving platter. Drizzle with warm dressing and serve immediately.
You may also like...
Hearty beef and beer stew recipe
Risotto recipes and tips
Simple braising techniques and recipes