It's OK to indulge in Paula's original recipes on occasion, but with a little portion control and smart substitutions, you can transform the famous foodie's fat-laden favorites in your own kitchen.

Warm & creamy potato salad

Serves 5
Ingredients:
1 tablespoon seasoning blend (onion and garlic flavor)
2 tablespoons diced pimento or red bell pepper
1/2 teaspoon lemon pepper
2 tablespoons diced green bell pepper
2 hard-boiled egg whites (optional)
1/2 cup chopped celery
2 tablespoons chopped green onions
4 medium red potatoes, quartered (skins still on)
2 tablespoons chopped fresh parsley
2 teaspoons Dijon mustard
2 tablespoons olive oil mayonnaise
1/2 cup nonfat plain yogurt
Salt and pepper to taste
Directions:
Starting from cold water, bring the potatoes to a boil and continue cooking until tender (five or 10 minutes).
Allow the potatoes to cool (enough to touch) while you mix the other ingredients in a medium bowl.
Carefully fold in the potatoes. This salad should be served at room temperature.
Not-as-sinful mac & cheese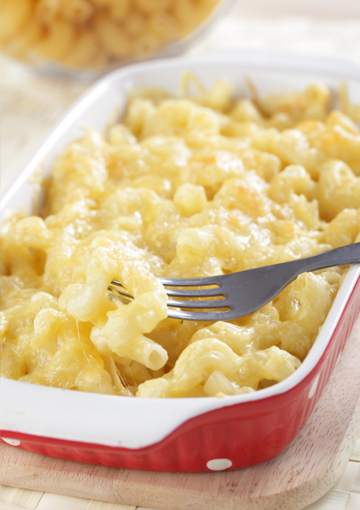 Servings: 4
Ingredients:
2 tablespoons squash puree
1/4 cup nonfat plain yogurt
1 cup shredded 2 percent cheese
2 egg whites, beaten
2 cups elbow macaroni or rotini, cooked and drained
1/4 teaspoon salt
1/2 cup 2 percent milk
Pepper to taste
Directions:
Preheat the oven to 350 degrees F.
Place hot pasta in a medium bowl and add the cheese.
In a separate bowl, combine the rest of the ingredients and add them to the pasta.
Transfer the pasta mixture into a casserole dish and bake for 20 to 30 minutes or until thoroughly heated.
Better-for-you Italian pasta shell stuffing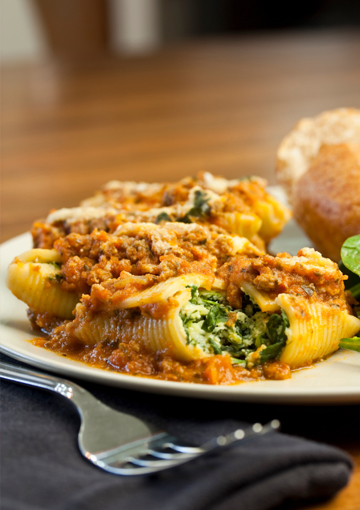 Serves 4 to 6
Ingredients:
1 package frozen, chopped spinach
1 pound ground turkey
1/2 (8 ounce) package Neufchatel, softened
1 medium yellow onion, chopped
1 medium egg white
Grated low-fat Parmesan to taste
Salt and pepper to taste
1 (6 ounce) box wheat or spinach jumbo pasta shells, cooked
1 cup pre-made pasta sauce
Directions:
Thaw and strain frozen spinach. Using cheesecloth, squeeze out the excess water.
Brown the ground turkey and drain the excess fat.
Sauté the onions in cooking spray until translucent.
After the meat and onions have cooled, add them to a large bowl with the remaining ingredients and stir.
Preheat the oven to 350 degrees F.
Stuff each shell with some of the mixture and place in a shallow baking dish.
Top with pasta sauce, cover and bake for 30 minutes or until thoroughly warmed.
More about Paula Deen
Paula Deen: "Yes, I have diabetes"
Five Paula Deen recipes that aren't gut-busters
Paula Deen diabetes backlash led by Anthony Bourdain
Photo credit: Michael Wright/WENN.com