Utilize Winter's Bounty
Winter has a lot more to offer aside from carrots and potatoes. Hardy root vegetables that grow completely underground are bountiful during the colder seasons. They can be spicy or mild, sweet or savory, or some combination thereof. For a fun switch up from the usual, try integrating one or more of these under-utilized root vegetables into your winter recipes.
(page 5 of 5)
Likely the most unused vegetable on this list, burdock root is more commonly used in medicinal oil form than in home kitchens. In folk medicine, it has long been prized for its anti-inflammatory properties and some believe it provides relief for arthritis, viruses and various skin conditions. Whether or not it lives up to those health claims, it does make for a tasty and unusual side dish. Try burdock root sautéed with nutty sesame oil and soy sauce like in the burdock root recipe below: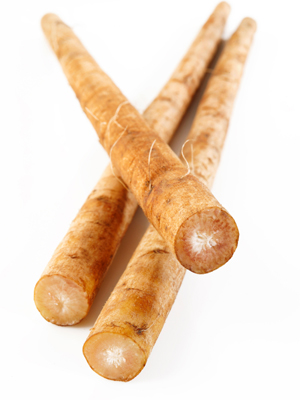 Salty and sweet sautéed burdock root
Serves 4
Ingredients:
1 pound burdock root
2 tablespoons dark sesame oil
1/2 cup water
1 tablespoon sugar
2 tablespoons soy sauce
Directions:
Peel the burdock root using a vegetable peeler and discard skin. Using a sharp knife, julienne into long matchstick slices, or if you prefer, slice thinly on a bias to create elongated rounds.
Heat the sesame oil over medium high heat. Add the burdock root and sauté, stirring constantly, for about three minutes or until slightly softened.
Add in water, sugar and soy sauce and stir to combine. Lower heat, partially cover, and cook until the liquid is completely gone and the burdock root is tender.
More delicious root vegetable recipes
Beer braised brisket and root vegetables
Jerusalem artichoke recipes
Raw beet, walnut and goat cheese recipe