Utilize Winter's Bounty
Winter has a lot more to offer aside from carrots and potatoes. Hardy root vegetables that grow completely underground are bountiful during the colder seasons. They can be spicy or mild, sweet or savory, or some combination thereof. For a fun switch up from the usual, try integrating one or more of these under-utilized root vegetables into your winter recipes.
(page 3 of 5)
They are not white carrots, nor are they the root part of the parsley plant. They are a vegetable all unto themselves. Parsnips have a subtly spicy flavor and are a little more bitter than carrots but develop a lovely sweet flavor once cooked. These guys are an exception to the darker-is-more-nutritious rule of thumb. They contain tons of vitamin C, fiber and folic acid. Roasting in high heat until they are caramelized is the best way to bring out the rich sweetness.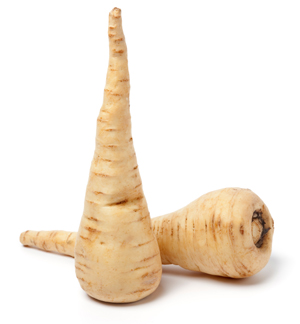 Oven-roasted parsnips recipe
Serves 4
Ingredients:
2 pounds parsnips, peeled
2 tablespoons extra virgin olive oil
1 teaspoon salt
1 tablespoon butter
Directions:
Preheat oven to 450 degrees F.
Toss parsnips with olive and salt in a large baking dish. Dot with butter and roast for 30-35 minutes, turning occasionally with tongs to ensure they brown evenly.