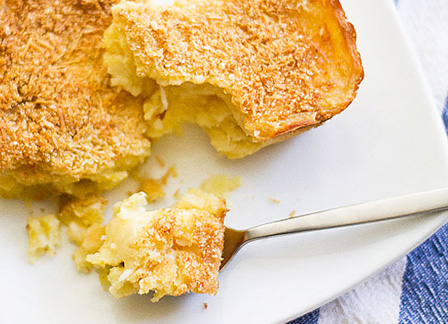 I love mashed potatoes -- who doesn't? So I tried to fancy up this traditional dish. The inside is filled with mozzarella cheese and garlic and then topped with crisp breadcrumbs. This baked method is one of the many ways you can enjoy your mashed potatoes.
Elevate this classic side dish to the next level!
Crispy outside and creamy inside, this will become your new go-to mashed potato recipe!
You can easily prepare this recipe in advance, not to mention it travels beautifully. Perfect for a family gathering or potluck!
Garlic mashed potatoes recipe baked with fresh mozzarella and breadcrumbs
Serves 4-6
Ingredients:
2 pounds Yukon gold potatoes, roughly chopped
3-4 cloves garlic
4 ounces fresh mozzarella, chopped
1/2 cup grated Parmesan cheese
2 tablespoons breadcrumbs
1/2 cup milk
2 tablespoons butter
Salt and pepper, to taste
Directions:
Preheat oven to 400 degrees F. Grease an 8 x 6-inch baking dish with butter or olive oil, and set aside.
In boiling salted water, add potatoes and garlic cloves. Cook until tender, about 15 minutes. In the meantime, in a bowl, stir together breadcrumbs and two tablespoons of Parmesan. Set aside.
Drain potatoes and garlic. In the same pot, mash together until desired consistency. Mix in butter and milk, and then mozzarella and remaining Parmesan. Season with salt and pepper.
Pour the mixture into your greased baking dish and sprinkle breadcrumb and cheese mixture on top. Bake for 20-30 minutes, until top is golden brown.
More mashed potato recipes
Mashed potatoes and carrots recipe
Spinach mashed potatoes recipe
Kale and olive oil mashed potatoes recipe