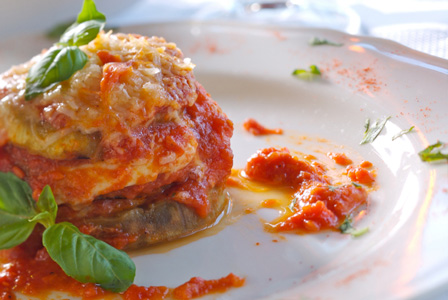 Instead of using traditional lasagna noodles, this recipe is layered with sliced eggplant with fresh tomatoes, mozzarella and breadcrumbs. It's healthy, light and low in carbs, yet has a ton of flavor.
Cut down on the carbs!
A wonderful meatless entrée that's big on flavor
Delicious and using only a handful of fresh ingredients, this eggplant lasagna recipe is a great alternative if you're looking to cut down on meat and carbs. It's also the perfect gluten-free recipe for lasagna. The bulk of this recipe is just simple layering and baking, plus there's no slaving away by the stove cooking a tomato sauce! You can easily make this on a weeknight, but it would also make a nice weekend family meal paired with a salad full of mixed greens.
Pasta-free lasagna with eggplant, mozzarella and tomatoes recipe
Serves 6-8
Ingredients:
3/4 cup olive oil
1 long eggplant, sliced lengthwise (about 8 slices)
2 large tomatoes, sliced (about 12 slices)
1 pound fresh mozzarella, sliced
1-1/2 cups breadcrumbs
Dried herbs for topping (parsley, oregano, basil)
Salt and pepper, to taste
Directions:
Preheat oven to 400 degrees F.
Heat a wide skillet on medium-high heat with about 1/4 cup olive oil. Season eggplant slices on both sides with salt and pepper. Sauté for about three to four minutes on each side, until golden brown. Eggplant is sponge-like, so if they seem dry, just add a little more olive oil to the skillet, but make sure to not drown them. Set aside on a plate until all are done.
To assemble, at the bottom of your baking dish, place two eggplant slices, followed by two tomato slices on each eggplant slice and then mozzarella slices. Top with about a 1/4 cup of breadcrumbs. Repeat this step about two or three more times. Sprinkle more breadcrumbs, salt, pepper and dried herbs on top, and then drizzle with some olive oil.
Bake until the top is golden brown and crisp, about 45 minutes.
More vegetarian recipes
Warm tofu with spicy garlic sauce recipe
Low-sodium shiitake mushroom and veggie stir-fry recipe
Pasta salad with black-eyed peas and corn recipe
More From SheKnows Explorer