Christmas Dessert
You Can Set On Fire
You've probably heard the song "We Wish You a Merry Christmas" a million times, and you've likely sung the line "Now bring us some figgy pudding" over and over. But do you know what figgy pudding really is? Keep reading to find out!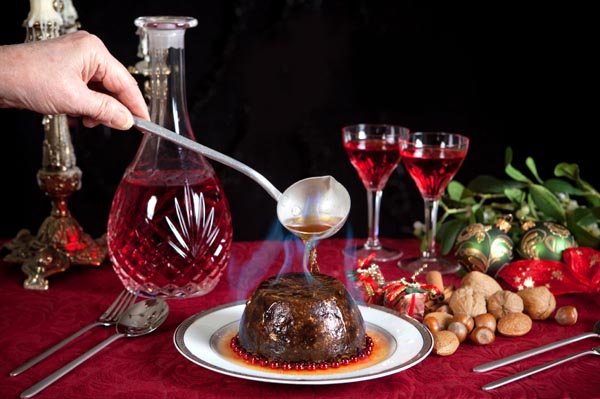 Now bring us some figgy pudding
Now bring us some figgy pudding
Now bring us some figgy pudding
And a cup of good cheer
Fact of fiction?
Figgy pudding: Is it real or just some made-up food referenced in one of the most popular Christmas songs of all time? It turns out figgy pudding is an actual dessert dish, and if you believe what you read, it's tasty!
Way back when (well, in 2007), NPR ran a story about figgy pudding, breaking down the history and current state of affairs, er, dessert. Figgy pudding is a British food that dates back to the mid-1600s. It was banned by English puritans, likely for the alcohol content.
Booze in your dessert
Did we get your attention? Yes, figgy pudding contains alcohol! We'll get to that in a minute. Figgy pudding is more like cake than pudding and is made of dried fruit, a special cake batter, seasonings such as nutmeg and cinnamon and, oh yes, a boatload of booze. The recipe itself includes cognac and rum, but if you're feeling really adventurous, you can drizzle even more alcohol over your figgy pudding after you've made it and light it on fire. Really.
It is good?
Dorie Greenspan, author of Baking: From My Home to Yours, reluctantly admitted to NPR that figgy pudding is somewhat similar to a dreaded Christmas dessert: "Ok, it's a little like fruitcake -- I was trying to avoid mentioning that -- but there is nothing green, bright red or fluorescently yellow in it."
However, Greenspan insists figgy pudding is a great dessert and even shares her recipe with readers. If you're up for the challenge, check it out and whip up your own figgy pudding.
More Christmas desserts
Healthy Christmas desserts
Easy Christmas cookie recipes
The best fudge recipes: 4 Options to sink your teeth into