(page 2 of 2)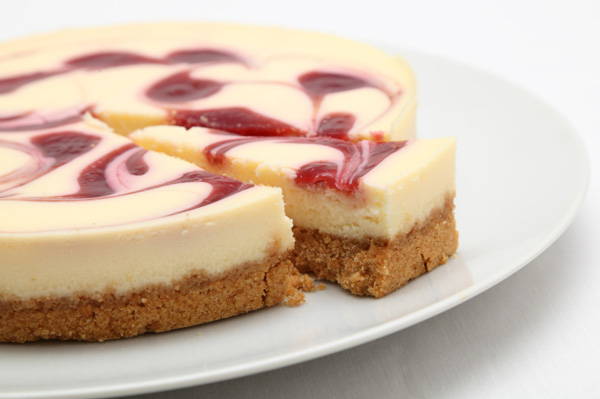 Skinny Christmas berry cheesecake recipe
My mom and I created this cheesecake recipe one Christmas Eve around midnight. We were determined to create a healthier version of one of our family's all-time favorites -- cheesecake with a berry sauce! We used Zsweet which is a healthful version of a zero calorie sweetener that dramatically reduced the carbohydrates in this dessert. Now my family enjoys cheesecake with a little less guilt!
Ingredients:
Cranberry puree:
1 cup fresh cranberries
16 ounces frozen raspberries
2/3 cups Zsweet (available at Whole Foods)
2/3 cups fresh orange juice
2 tablespoons orange zest
1/2 teaspoon ground cinnamon
1/4 teaspoon ground nutmeg
4 teaspoons vanilla extract
Crust:
Nonstick cooking spray
2 cups Special K cereal
2 tablespoons coconut palm sugar (available at Whole Foods)
1/4 teaspoon ground cinnamon
2 tablespoons butter, unsalted
Filling:
4 (8 ounce) packages low-fat cream cheese, room temperature
1 cup Zsweet
4 large cage-free omega-3 eggs (these have good fats in them)
1 cup low-fat Greek yogurt
1 tablespoon vanilla extract
1 package sugar free cheesecake instant pudding mix
Compote:
1 (10 ounce) package frozen unsweetened raspberries, thawed
1/2 cup cranberry puree (made in step 1)
3/4 cup Zsweet, brown sugar flavor
1 tablespoon fresh lemon juice
2 teaspoons grated lemon zest
1/2 teaspoon ground cinnamon
1/4 teaspoon ground nutmeg
1 tablespoon vanilla extract
Directions:
Cranberry puree:
Combine all ingredients except vanilla in a heavy, large saucepan. Cook over medium heat until mixture thickens, stirring occasionally, about five minutes. Cool slightly.
Transfer to processor. Add vanilla. Puree until smooth.
Strain into medium bowl. Separate 1/2 cup and use in the cran-raspberry compote. Cover with plastic. Refrigerate at least six hours or freeze for one and a half hours.
Crust:
Spray 10-inch-diameter springform cheesecake baking pan with 2-3/4 inch high sides with nonstick spray. Wrap outside of pan with two layers of heavy-duty foil.
Blend Special K cereal, coconut palm sugar, cinnamon and unsalted butter in a food processor until moist clumps form (about five minutes). Press crumb mixture onto bottom of pan.
Filling:
Position rack in center of oven and preheat to 350 degrees F. Using an electric mixer, beat cream cheese in large bowl until fluffy. Beat in Zsweet and pudding mix. Beat in eggs one at a time. Mix in sour cream and vanilla.
Transfer 1/3 of filling to prepared crust. Dollop 1/3 of cranberry puree atop filling. Repeat layering of filling and puree two more times. Using a knife, swirl puree through filling, creating marbled design.
Place springform pan in large roasting pan. Pour enough boiling water to come halfway up sides of springform pan. Bake until cheesecake puffs around edges, about one hour and 15 minutes. Turn off oven. Let cake stand in oven for an hour, leaving oven door open.
Transfer cake to rack. Run knife around pan sides to loosen cake. Cool completely. Remove foil from pan sides. Cover cake and chill overnight. (Can be made two days ahead. Keep refrigerated.)  Remove pan sides. Serve cake with cran-raspberry compote.
Compote:
Combine all ingredients except vanilla extract in a heavy medium saucepan. Simmer over medium heat until mixture thickens, about 10 minutes. Remove from heat. Cool slightly.
Stir in vanilla. Cool to room temperature. Cover and refrigerate until cold, at least six hours. (Can be prepared two days ahead. Keep refrigerated.)
Nutrition facts per slice: 350 calories, 11 grams protein, 23 grams carbohydrates, 5 grams fat SERVES 12
Honey almond popcorn globe recipe
Kids love these sweet globes of yummy, crunchy popcorn! Moms should be happy to serve them because popcorn is very high in fiber which helps to stabilize blood sugar levels. This means kids won't be terrorizing the house on a sugar rush over the holidays!
Ingredients:
20 cups air popped popcorn (about 2 packs of microwaveable popcorn or 2/3 cups kernels)
1-1/4 cups organic butter, cut into small cubes
1-1/4 cup organic honey
1/2 teaspoon sea salt
1 teaspoon vanilla extract
1 teaspoon almond extract
3 tablespoons organic butter, cut into cubes (this will be used on hands for making globes)
Directions:
Preheat oven to 325 degrees F. Put popcorn in a large deep baking dish or roasting pan. Also, line a large baking sheet with waxed paper.
In a medium saucepan over medium heat, stir together butter, the honey and salt until butter is melted. Increase heat, and boil honey mixture gently one minute. Stir in vanilla and almond extracts.
Slowly pour honey almond mixture over popcorn in baking dish and stir gently to coat. Bake popcorn, stirring every eight minutes, until deep golden all over, about 24 minutes.
Let popcorn stand five minutes, until it is cool enough to handle. With lightly buttered hands, press small handfuls of the mixture into 1-1/2-inch globes. If mixture cools too much to be malleable, return it to oven for about 45 seconds to soften.
Put popcorn balls on prepared baking sheet and let cool completely. Store in an airtight container at room temperature for up to two weeks.
Nutrition facts per popcorn globe: 64 calories, 4 grams fat, 0 grams protein, 7 grams carbs
Skinny pomegranate-bellini recipe
Holidays are all about being merry and bright, but no gal feels bright the morning after a night of too much holiday cheer. Thus, I just had to create some low calorie cocktails recipes that help lessen the "day after" damages. These tasty beverages are sure get you feeling tipsy and joyful because they will save you hundreds of calories!! Bottoms up, ladies.
Serves 16
Ingredients:
16 ounces Grand Marnier (orange-flavored liqueur)
1 cup pomegranate juice
1 (750 milliliter) bottle Champagne or Prosecco
8 thin orange slices
1/2 cup pomegranate seeds/arils
Directions:
Add the Grand Marnier and pomegranate juice to a large glass pitcher; stir well and chill for 20 minutes. Pour evenly into glass flutes.
Add 1/4 cup of Champagne or Prosecco per glass. Garnish with orange slices and pomegranate arils (seeds) and serve immediately.
Nutrition facts per 4 ounce serving: 160 calories, 0 grams protein, 12 grams carbohydrates, 0 grams fat
Cacao espresso martini recipe
Serves 2
Ingredients:
3 shots coconut milk, reduced fat
2 shots espresso
1 shot vanilla vodka
1 shot creme de cacao
Dark chocolate covered espresso beans, crushed
Dark chocolate flakes
Directions:
Shake all ingredients in a cocktail shaker with ice. Dip rim of martini glass in coconut milk and then in crushed dark chocolate covered espresso beans. Garnish with dark chocolate flakes.
Nutrition facts per serving: 200 calories. Compared to a traditional chocolate martin, 2 shots of chocolate liqueur and 1 shot vodka, 4 ounces heavy cream -- 438 calories, 9 grams fat, 42 grams carbs, 28.5 grams sugar!
More healthy holiday tips
Tasty alternatives to the unhealthiest holiday foods
Holiday diet tips to keep you trim
Top 5 tips to eat less this holiday season