Tied To Tradition?
Try A New Recipe!
Does the green bean casserole take center stage for you on Thanksgiving? Most people are used to their tried-and-true versions with the crunchy, canned onions on top (not that there's anything wrong with that). Ready to try something different this year?
(page 2 of 2)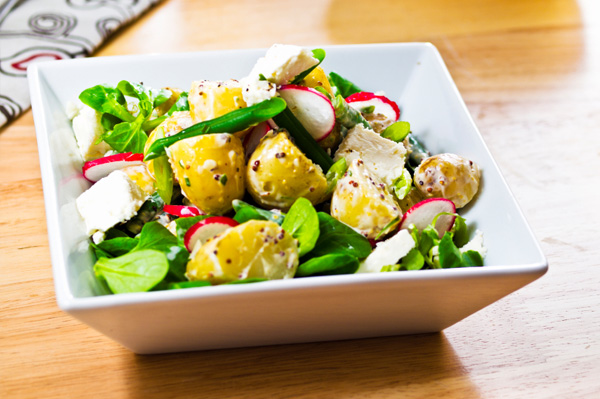 Green bean and potato salad recipe
Not quite a casserole but definitely all-in on the delicious factor, you'll delight your guests with this non-traditional green bean dish. With the added potatoes, pecans and goat cheese, you'll likely win the "best in class" with this green bean dish!
Serves 4 people
Ingredients:
12 small new potatoes, halved
Salt and freshly ground black pepper, to taste
2 teaspoons dried oregano
1/2 cup extra-virgin olive oil, divided
1/4 cup chopped pecans
2/3 pound thin green beans, trimmed
1/4 cup fresh tarragon, minced
1 tablespoon red wine vinegar
2 tablespoons Dijon mustard
2 cloves garlic, minced
1/2 teaspoon honey
5 ounces watercress
6 ounces crumbled goat cheese
Directions:
Preheat your oven to 325 degrees F. Arrange the potatoes on a sheet pan and season with salt, pepper and oregano. Drizzle 1/4 cup olive oil over the potatoes and roast until fork tender, about one hour. Remove the potatoes from the oven and set aside.
Spread the pecans on a sheet pan and place in the oven for three to four minutes to toast. Meanwhile, steam the green beans in a pot until crisp tender, about three minutes. Strain the beans, and then dunk in ice water.
In a small bowl, whisk the tarragon with red wine vinegar, mustard, garlic, honey and olive oil.
Combine the watercress with the potatoes and green beans, and then top with pecans and goat cheese. Drizzle the dressing over vegetables and gently toss to coat.
Martha Stewart's green bean casserole recipe
What would a "best of" be without an option from Martha Stewart? We didn't want to pass up this opportunity to shed some light on what type of green bean casserole Martha might serve on the big day!
Serves 8 people
Ingredients:
6 tablespoons unsalted butter, plus more for dish
1 medium onion, cut into 1/4-inch pieces
1 red bell pepper, seeded and cut into 1/2-inch pieces
1 pound button mushrooms, stems trimmed, quartered
2 teaspoons coarse salt
1/2 teaspoon freshly ground pepper
1-1/2 pounds green beans, trimmed and cut into 2-inch pieces
6 tablespoons all-purpose flour
2 cups milk
1 pinch cayenne pepper
1 pinch grated nutmeg
1 cup grated Parmesan cheese
1/4 cup breadcrumbs
1/4 cup canola oil
4 shallots, cut crosswise into 1/4-inch rings
Directions:
In a large skillet over medium heat, melt two tablespoons of butter. Add the onion, and sauté until it begins to soften, about four minutes. Add the bell pepper and mushrooms, and cook until they're softened and most of the liquid has evaporated, about eight minutes. Season with one teaspoon salt and 1/4 teaspoon pepper. Set aside to cool.
Prepare an ice bath: Fill a large bowl with ice and water; set aside. Bring a saucepan of water to a boil. Add the beans, and cook until bright green and just tender, four to five minutes. Drain, and plunge into ice bath to stop cooking. When cooled, toss drained beans with mushroom mixture; set aside.
Melt the remaining four tablespoons of butter in a medium saucepan over medium-low heat. Add 1/4 cup flour, whisk constantly until mixture begins to turn golden, about two minutes. Pour in milk, and continue whisking until mixture has thickened, about three minutes. Stir in cayenne, nutmeg, the remaining teaspoon of salt and 1/4 teaspoon pepper. Remove from heat, and let cool to room temperature, stirring occasionally. Pour over beans, and toss to combine.
Butter a 9 x 13-inch glass or ceramic baking pan. Spread half the green-bean mixture over the bottom. Sprinkle on half the grated Parmesan, and spread with the remaining green beans. Combine the remaining Parmesan and the breadcrumbs, and sprinkle over casserole. Cover with foil, and refrigerate until just before serving.
Heat the canola oil in a medium skillet over medium-high heat. Toss shallot rings with the remaining two tablespoons flour. Fry the shallots in batches, turning frequently, until golden brown. Transfer to paper towels to drain. Place in an airtight container, and set aside until ready to serve.
Heat the broiler, positioning the rack about eight inches from the heat. Cook the casserole, covered, until mixture is bubbly and heated through, about 10 minutes. Uncover, and cook until top is golden brown, about 30 seconds. Sprinkle the fried shallots over top, and serve immediately.
Creamy and crunchy green bean casserole recipe
Break out the breakfast cereal for this one… really! Sour cream and Swiss cheese add the creaminess and tang and the corn flake cereal adds the crunch. This is easy to put together to the delight of your guests!
Serves 8 people
Ingredients:
1/4 cup margarine or butter, divided
2 cup (about 4 ounces) corn flake cereal (crushed to 1-1/2 cups)
2 tablespoons flour
1/4 teaspoon salt
1/4 teaspoon pepper
1 teaspoon sugar
1-1/2 teaspoons onion powder
1 cup low-fat sour cream
1 package (about 20 ounces) French-style green beans, cooked and drained
1 cup (about 4 ounces) shredded low-fat Swiss cheese
Directions:
Preheat your oven to 400 degrees F. In a 3-quart saucepan melt the margarine over low heat. Remove from heat. Use two tablespoons of the margarine and mix it with the cereal. Set aside to use it as the topping. Add the remaining margarine in pan, and stir in the flour, salt, pepper, sugar and onion powder. Gradually stir in the sour cream. Fold in the green beans.
Pour the mixture into a 10 x 6 x 2-inch (or 1-1/2-quart) glass baking dish coated with cooking spray. Sprinkle the cheese and cereal mixture over the casserole.
Bake at 400 degrees F. for about 20 minutes or until thoroughly heated. Serve hot.
There is something to be said for tradition, but once in a while, it's fun to break free and try something new! These green bean casserole recipes will give you several options for starting a new tradition!
More Thanksgiving side dish recipes
Gourmet mashed potatoes
More than sauce: Interesting ways to use cranberries
Healthy Thanksgiving side dishes