Traditional Recipes
For Two
Not everyone cooks for a crowd on Thanksgiving. No matter how many are sitting around the table, whether 2 or 20, everyone loves the traditional Thanksgiving dishes of the day. Leftovers are great for later, but some of the more common Thanksgiving recipes will leave twosomes with way too much food to enjoy down the road!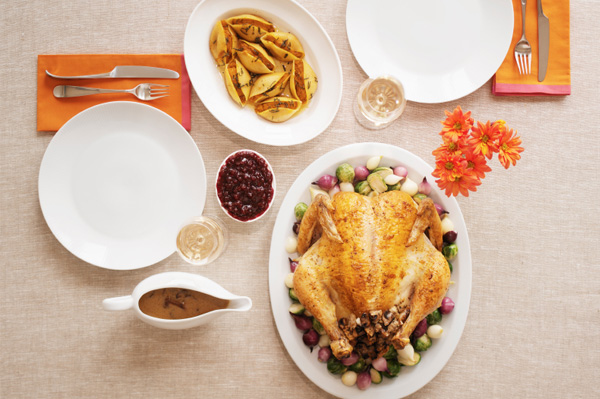 Cooking a big, traditional dinner for two can be troubling if you're using some of the more common Thanksgiving recipes. Check out some of these traditional dishes with portions that are perfect for two! Don't worry, you'll still have enough (but not too much) left over to enjoy during the holiday weekend!
Turkey for two
Nothing says (or smells like) traditional Thanksgiving without roasting a turkey! Taste of Home offers up this delicious and easy turkey recipe for a dinner for two. Keep in mind that this serves only two people, so if you want leftovers, consider doubling the recipe.
Serves 2 people
Ingredients:
2 turkey breast tenderloins (6 ounces each)
1/4 cup white wine or chicken broth
1 tablespoon butter, melted
1/4 teaspoon salt
1/4 teaspoon dried tarragon
1/4 teaspoon paprika
1/2 cup sliced fresh mushrooms
Non-stick cooking spray
Directions:
Place turkey in an 11 x 7-inch baking dish coated with cooking spray. In a small bowl, combine the wine, butter, salt, tarragon and paprika. Spoon the mixture over the turkey. Arrange the mushrooms around the tenderloins.
Bake, uncovered, at 375 degrees F. for 30-35 minutes or until a meat thermometer reads 170 degrees F., basting occasionally with the pan drippings.
Let stand for five minutes before slicing. Serve with remaining pan drippings.
Thanksgiving stuffing for two
Thanksgiving is nothing without stuffing! This recipe, courtesy of MSNBC, includes lots of herbs for a delicious flavor.
Serves 4 people
Ingredients:
8 slices multigrain or whole-wheat bread, cut in 3/4-inch cubes
1 tablespoon canola oil
1 celery rib, chopped
1/2 cup finely chopped red onion
1/2 leek, white part only, finely chopped
1/2 small shallot, finely chopped
1/2 Granny Smith apple, cored and cut in half-inch cubes
1 teaspoon dried and crumbled rosemary, or to taste
1 teaspoon dried thyme, or to taste
1 large egg, beaten
Salt and freshly ground black pepper, to taste
1-1/2 cups fat-free, low-sodium, chicken broth
Directions:
Spread the bread cubes in one layer on a baking sheet and leave them out overnight to dry. Or, toast the cubes in a 300 degree F. oven until dry, 15 to 20 minutes. Place dried cubes in a large bowl and set aside.
Preheat your oven to 350 degrees F. Coat an 8-inch square baking pan with cooking spray.
Heat the oil in a medium skillet over medium-high heat. Sautee the celery, onion, leek and shallot until they're soft, or about four minutes. Mix in the apple and coat it with oil.
Add this mixture to the bread cubes. With a fork, mix in the egg. Add the rosemary, thyme, salt and pepper to taste. Toss with a fork to blend.
Pour in one cup of the broth and mix until the dressing is moist but not soggy, adding more broth if needed. Pack the dressing firmly into the prepared pan, and cover with foil.
Bake for 30 minutes. Uncover and set aside for 15 minutes before serving.
Perfect mashed potatoes
Mashed potatoes are like the glue that holds Thanksgiving dinner together! This recipe from Simply Recipes, can be cut in half to serve two, but we're fairly sure you'll enjoy the extra as leftovers!
Serves 4 people
Ingredients:
1-1/2 pounds Yukon gold potatoes, peeled and quartered length-wise
1/2 teaspoon salt
4 tablespoons heavy cream
2 tablespoons butter
1 tablespoon milk
Salt and pepper to taste
Directions:
Put potatoes into a saucepan. Add 1/2 teaspoon salt. Add water until the potatoes are covered. Bring to boil, reduce heat and simmer, covered, 15-20 minutes, or until done (when a fork can easily be poked through them).
Warm the cream and melt the butter, together, either in the microwave or in a pan on the stove.
Drain water from potatoes. Add the hot potatoes into a bowl. Add the cream and melted butter. Use potato masher to mash potatoes until well mashed.
Use a wooden spoon to beat further, adding the milk to achieve the consistency you desire. (Do not over-beat or your potatoes will turn into glue.) Salt and pepper to taste.
Simple and amazing cranberry sauce
I can't think of when fresh isn't best when it comes to food, so forget about the stuff that comes out of the can! This cranberry sauce recipe is easy to make and tastes so good. After making this recipe you'll never consider cranberry sauce from a can again! This is courtesy of Savory Sweet Life.
To save time, you can make this cranberry sauce a few days ahead of time, store in the refrigerator and then bring it to room temperature or slightly heat it before you're ready to serve it.
Makes 2 cups
Ingredients:
1 (12 ounce) bag of fresh cranberries
3/4 cup orange juice
2/3 cup brown sugar
1/3 cup white sugar
2 ounces gold rum, optional
Directions:
Place all the ingredients in a sauce pan and cook on medium-high for 15-20 minutes or until most of the liquid has reduced, stirring occasionally.
You may hear the cranberries popping, but that's okay. Remove them from the heat and serve.
Green bean salad with almonds
Green beans are a standard at the table for Thanksgiving. But this dish isn't the mushy casserole your aunt makes! These green beans from Whole Living are fresh and crunchy!
Serves 3 people
Ingredients:
1/4 cup whole roasted almonds
2 teaspoons tamari
1 pound green beans, trimmed
1 tablespoon toasted sesame oil
Less than two tablespoons rice vinegar
1 clove garlic, minced
1 teaspoon fresh ginger, peeled and finely chopped
1/4 cup fresh cilantro leaves, chopped roughly (optional)
Directions:
Place almonds in a small nonstick saute pan. Lightly toast them over medium-high heat, for about three minutes. Add one teaspoon of tamari and stir until the almonds are coated evenly, about 30 seconds. Transfer to a plate and cool. Chop almonds roughly.
Prepare a large bowl of ice water. In a large pot of boiling salted water, cook beans until crisp-tender, about eight to 10 minutes.
Drain the beans and transfer to the bowl of ice water. Remove green beans and drain well.
In a large bowl, combine the sesame oil, vinegar, garlic, ginger and remaining one teaspoon of tamari. Add the drained green beans and toss them to coat. Garnish with roasted almonds and fresh cilantro, if desired. Serve immediately, while warm.
Mini apple crostatas
Do you really want dessert for two or are you looking for a bit more? Either way, try these delightful desserts for two (well….there will be enough for seconds)! Totally easy to make (just five ingredients) and serves four -- just in case!
Serves 4 people
Ingredients:
1 refrigerated pie crust from a 15-ounce box, softened as directed on box (Pillsbury® makes one)
1 large baking apple, peeled, cored and thinly sliced (about 2 cups)
2 tablespoons sugar
1/4 teaspoon ground cinnamon
8 teaspoons caramel flavored topping
Directions:
Heat oven to 425 degrees F. Unroll crust on work surface. Roll crust out slightly and cut it into four, 5-inch rounds. Place rounds on a parchment lined cookie sheet.
In a medium bowl, mix the sugar and cinnamon and toss the apple slices into the sugar mixture. Divide the apple slices evenly onto the center of each pie crust round. Fold 1/2-inch of crust over filling, pinching slightly so that crust lays flat on apples.
Bake 18 to 20 minutes or until the crust is golden brown and the apples slices are tender. Drizzle two teaspoons of caramel topping over each crostata. If desired, serve warm with ice cream. This recipe is courtesy of Pillsbury.
If you're having two for Thanksgiving dinner, these recipes will leave you satisfied, with maybe just a little left over for later!
Try these recipe ideas for two people
Turkey for two
The best Thanksgiving leftover recipes
Dessert fondue for two
Cooking for one…or two