Swap Pie For Cupcakes And Cookies!
Pumpkin pie is as synonymous with Thanksgiving as turkey, pioneers and cornucopias. As delicious as a creamy slice of pumpkin pie is, sticking to the same old recipes year in and year out can be such a drag. So this year, instead of bringing the standard pie you always bring to your Grandma's Thanksgiving dinner, surprise your friends and family with these three unique, and equally delicious pumpkin desserts. You'll be shocked at how quickly they disappear and how little people will miss the boring ol' pumpkin pie!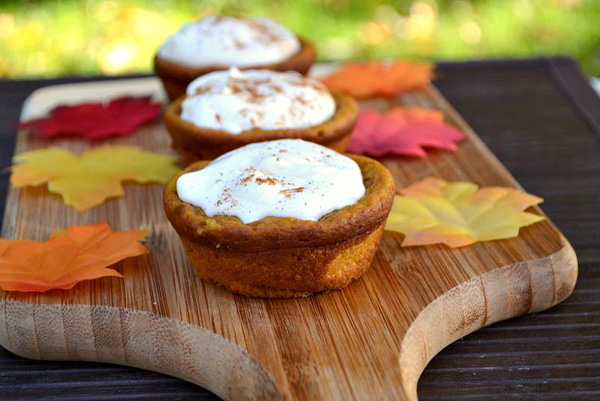 Each of these desserts has all of the traditional flavors of pumpkin pie (like cinnamon, pumpkin puree and cumin) with other delicious ingredients too, like Greek yogurt, cream cheese and chocolate chips! Plus, each bite size pumpkin treat requires no fork or plate. And for those who are always stuck on dish duty (like I am), this fact alone makes each one necessary this year!
Pumpkin pie cupcake recipe
Don't let the name of these fool you -- they aren't your ordinary cupcakes. These mini cakes have the same ooey, gooey center as a slice of the famous pumpkin pie. The flour and sugar in the mix form a crust around the center so you get the same texture as a piece of pie. Plus, the top becomes concave while cooling, forming a perfect spot for a dollop of whipped topping!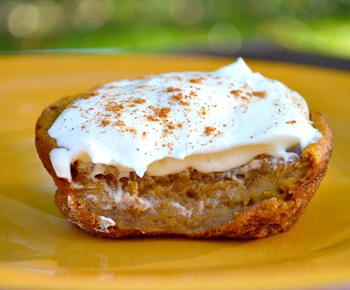 Yields: 12 cupcakes
Ingredients:
2/3 cup all-purpose flour
1/4 teaspoon baking powder
1/4 teaspoon baking soda
1/4 teaspoon salt
1 tablespoon pumpkin pie spice
1 (15 ounce) can pumpkin puree
1/2 cup white sugar
1/4 cup brown sugar
2 large eggs
1 teaspoon almond extract
3/4 cup skim milk
Whipped topping and cinnamon for garnish
Directions:
Preheat the oven to 350 degrees F. Line cupcake wrappers in a muffin pan and coat wrappers with cooking spray.
In a medium bowl, mix together flour, baking powder, baking soda, salt and pumpkin pie spice.
In a larger bowl, combine pumpkin puree, sugar, brown sugar, eggs, almond and milk until fully combined. Add in dry ingredients and mix until no streaks of flour remain and batter is smooth. (Batter will be runny).
Fill liners about 3/4 of the way full and bake for 15-20 minutes, or until cupcakes are brown. Once cooled, add a dollop of whipped topping into the concave center and sprinkle with cinnamon!
Low-fat pumpkin cake bars recipe
Not only is this cake absolutely delicious, it's very low in fat and calories because it's made with no added butter or oil! Serve with low-fat cream cheese frosting for a deliciously deceptive holiday dessert! You might want to double the recipe -- this pumpkin cake will go FAST!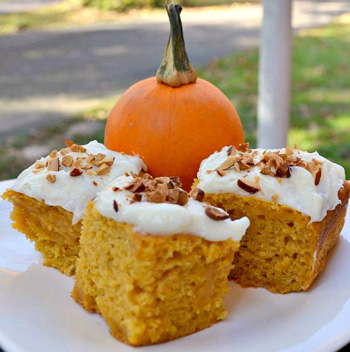 Yields: About 16 cake bars
Ingredients:
For the cake:
1 (15 ounce) can pumpkin puree
2/3 cup low-fat Greek yogurt
1 teaspoon vanilla extract
4 egg whites
1 teaspoon baking soda
1 cup white sugar
3 teaspoons baking powder
2 cups all-purpose flour
1/2 teaspoon of salt
2 teaspoons pumpkin pie spice
Cooking spray
For the frosting:
5 ounces light cream cheese
1 cup powdered sugar
1 teaspoon vanilla
1/4 cup toasted almonds, chopped
Directions:
To make the cake: Preheat oven to 350 degrees F. Grease an 8 x 8-inch glass cake plate with cooking spray.
Mix pumpkin, yogurt, vanilla, egg whites and sugar well in a large mixing bowl. Once combined, add in baking soda, baking powder, flour, salt and pumpkin pie spice until fully mixed.
Bake for about 30 minutes, or until cake comes out dry when inserted with a toothpick.
To make the frosting: Mix cream cheese, powdered sugar and vanilla together. Once cake has cooled, frost and garnish with toasted almonds.
Pumpkin chocolate chip cookies recipe
These cookies are the most delicious chocolate chip cookies I've ever had. They are so easy and are a huge crowd favorite. My father-in-law, who hates all things pumpkin, could not stop eating these pumpkin chocolate chip cookies. To make these even more decadent, drizzle with melted milk chocolate and dip in toasted almonds!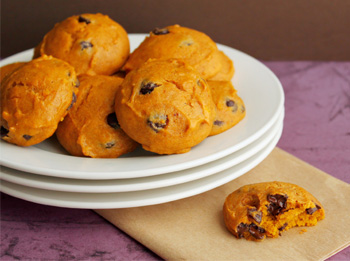 Yields: 24 cookies
Ingredients:
1 cup pumpkin puree
1 cup white sugar
1/2 cup vegetable oil
1 egg
2 cups all-purpose flour
2 teaspoons baking powder
2 teaspoons pumpkin pie spice
1/2 teaspoon salt
1 teaspoon baking soda
1 teaspoon milk
1 tablespoon vanilla extract
2 cups of semi-sweet chocolate chips
Cooking spray
Directions:
Preheat oven to 350 degrees F. Grease a cookie sheet with cooking spray.
Combine pumpkin, sugar, vegetable oil and egg. Mix until combined. In a separate bowl, sift flour, baking powder, pumpkin pie spice, salt and baking soda. Add milk and vanilla extract to flour mixture.
Add pumpkin mixture into the flour mixture and mix until fully combined. Add in chocolate chips.
Drop spoon size dough balls onto the greased cookie sheet, about an inch apart. Bake for about eight to 12 minutes, until cookies are browned!
Pumpkin pie, you can eat your heart out!
More Thanksgiving desserts
The perfect apple pie
Sweet potato pie -- A Southern favorite
Spiked Thanksgiving desserts