Breast Cancer Prevention Tips
Your diet plays a crucial role in your health and is especially important in warding off chronic diseases, such as breast cancer. Though there are no miracle foods that cure breast cancer, we talked with oncologist Mitchell Gaynor, M.D., founder and president of Gaynor Integrative Oncology and clinical assistant professor of medicine at Weill Medical College, to find out if there are specific foods women should be eating to prevent the disease. Dr. Gaynor, who was a recent guest on The Martha Stewart Show, suggests filling up on the following five breast cancer fighting foods.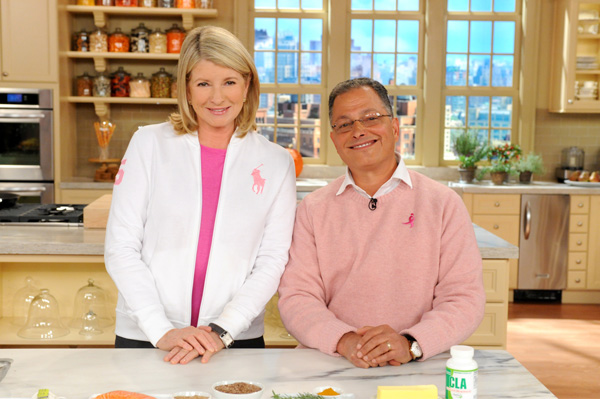 Martha Stewart and Dr. Mitchell Gaynor are seen in this photo from the production of The Martha Stewart Show in New York on Tuesday, Oct. 18, 2011. Photo credit: Rob Tannenbaum/The Martha Stewart Show

---
The Breast Cancer Hour
If you missed the first episode of The Breast Cancer Hour on The Martha Stewart Show, you can catch it again Wednesday, Oct. 19 at 1:00 p.m. EST/ 12 p.m. CST. Join Martha for a special show dedicated to breast cancer prevention, with the latest research and healthy lifestyle advice from a dream team of cancer experts. Learn about five overlooked risk factors from surgeon Deborah Axelrod, get up-to-date on stem-cell research with Susan Solomon and Scott Noggle of the New York Stem Cell Foundation and find foods that help ward off cancer with oncologist Mitchell Gaynor.
5 Foods that fight breast cancer
Cruciferous vegetables
According to Dr. Gaynor, cruciferous veggies like broccoli, Brussels sprouts, cauliflower and cabbage are dietary warriors against breast cancer. "These contain sulforaphane which rids the body of carcinogens and indole carbinol which changes the estrogens in your body from the type that promote breast, uterine and ovarian cancers and changes them to the type that actually protects against these cancers," the oncologist explains.
Whole grains
Dr. Gaynor says whole grains are great for improving sugar metabolism and that whole grains are broken down in the gut to short chain fatty acids which help the immune system and decrease inflammation in the body, which is a major contributor to cancer. Go for high-fiber whole wheat and whole grain varieties of breads, pasta and cereals, and swap out white rice with brown rice, quinoa, bulgur, barley and buckwheat.
Foods rich in vitamin D
Vitamin D, also known as the sunshine vitamin because our body manufactures vitamin D when we spend time in the sun, is key to combating breast cancer. "Women with the lowest vitamin D levels have an increased risk of breast cancer and women who have low vitamin D levels at the time of being diagnosed with breast cancer have a far greater likelihood of recurrence," says Dr. Gaynor. Reach for vitamin D-rich foods like salmon, cottage cheese and other dairy products.
Foods high in omega-3 fatty acids
Omega-3s are known for their anti-inflammatory properties and association with heart health, but these healthy fats also fend off cancer. "These [fats] lower inflammation, turn off enzymes that promote cancer and support immune health," explains Dr. Gaynor. "Women with higher omega-3 fatty acids in breast tissue have less aggressive breast cancers than those with lower levels." The doc suggests getting your omega-3s from cold deep water fish, walnut oil and flaxseeds/pumpkin seeds.
Spices
More than just flavor enhancers, spices can reduce your risk of developing breast cancer. "Spices like rosemary and turmeric inhibit development of breast cancer by shutting down enzymes that promote it as well as allowing the breast cancer cells to regain the ability to die normally," says Dr. Gaynor.
Other nutrients and foods that fight breast cancer that Dr. Gaynor advocates in the diet are:
Resveratrol – found in the skin of red grapes
Vitamin K2 – found in cheese, eggs and fermented soy
HDAC-inhibitors (HDAC is an enzyme associated with cancer) – inhibitors include alliums (garlic, chives, onions) and fiber-rich foods
Dietary soy – eat tofu, tempeh and miso in moderation
Coconut oil – it is made up of lauric acid, which boosts immune health and inhibits cancer cell growth by fostering healthy gene expression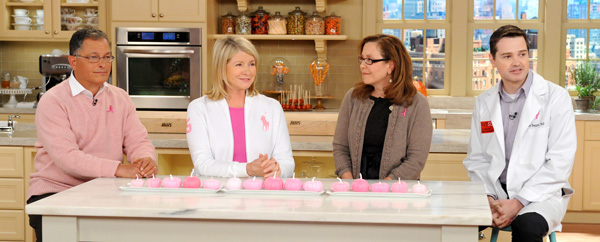 Dr. Mitchell Gaynor, Martha Stewart, Dr. Deborah Axelrod and Dr. Scott Noggle are seen in this photo from the production of The Martha Stewart Show in New York on Tuesday, Oct. 18, 2011. Photo credit: Rob Tannenbaum/The Martha Stewart Show

---
Foods that promote breast cancer
Dr. Gaynor warns that some foods we eat every day can put women at an increased risk of getting breast cancer. Here are the foods that the oncologist recommends dropping from your diet.
White sugar and white flour. "Every time your pancreas has to make insulin to metabolize white sugar, your liver is making something called IGF which is one of the major promoters of breast cancer," Dr. Gaynor explains. "Avoid high fructose corn syrup, soft drinks and snacks containing white sugar. Instead sweeten juices and foods with fruits, raw honey, maple syrup, date sugar or dehydrated sugar cane [or] agave nectar."
Too much saturated fat. According to Dr. Gaynor, some saturated fat in the diet is OK but too much contributes to breast cancer development. Eating a high fat diet also causes the body to break down sugar less efficiently contributing further to weight gain.
Processed foods like those containing acrylamide.
Hormone additive meats. A by-product of one such hormone (zearalanone) has been related to early puberty in girls and is a known risk factor for breast cancer.
Hydrogenated oils, margarines, trans fat. A 2008 study found women who consumed the most trans fat had a 75 percent increased risk of breast cancer.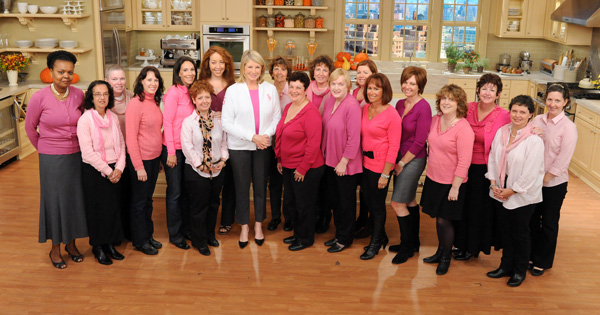 Martha Stewart and a group of cancer survivors from her studio audience are seen in this photo from the production of The Martha Stewart Show in New York on Tuesday, Oct. 18, 2011. Photo credit: Rob Tannenbaum/The Martha Stewart Show
---
If you want more information on breast cancer fighting foods and breast cancer prevention tips, be sure to tune in to The Breast Cancer Hour on The Martha Stewart Show tomorrow Wednesday, Oct. 19at 1:00 p.m. EST/ 12 p.m. CST.
---
More about breast cancer awareness
Style & beauty finds that support breast cancer
How to prepare for breast cancer surgery
10 Awesome retailers that support breast cancer awareness