Spook Up Your Party With Cupcakes!
There's no better time than Halloween to harness your inner Martha Stewart and get creative in the kitchen. As you quickly prep your house for Halloween and frantically sew together your child's Elvis costume, spooky cupcake decorating is probably last on your list. However, these fun and easy decorating tips take little time to do and are fun for the whole family! Plus, what kid doesn't love playing with their food?
(page 2 of 2)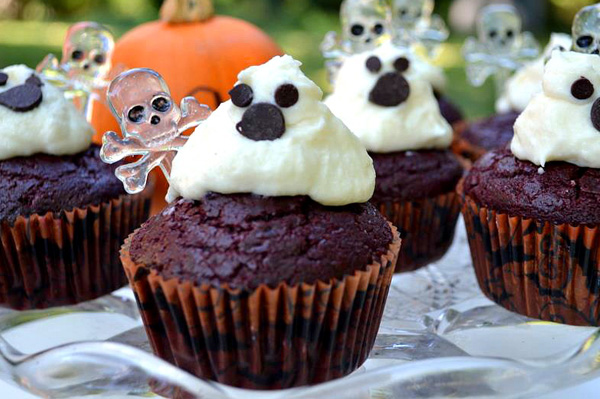 Boo-tiful ghosts
Use the same frosting recipe as you did for the happy pumpkins, this time omitting the food coloring.
Directions:
Make frosting as indicated above.
To decorate: Once the cupcakes have cooled, fill a plastic piping bag (no tips required) with frosting. Cut a small slit off the bottom and pipe ghosts onto the top of the cake by placing the bottom of the piper to the top of the Halloween cupcake, squeezing and pulling as you move up. Place two mini chocolate chips for eyes and one large chocolate chip for a mouth on each ghost. Chill for about 20 minutes then enjoy!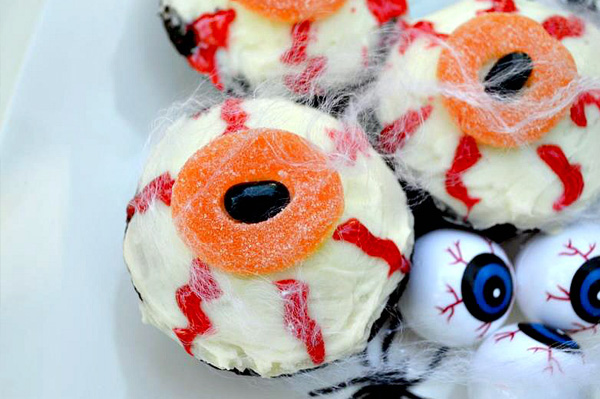 Bleeding eyeballs
Yields: Enough frosting and decorations for 2 dozen cupcakes
Ingredients:
2 sticks of butter, room temperature
7 cups of confectioners' sugar
1/2 cup skim milk
2 teaspoons of almond extract
1 small container of red food gel
24 black jelly beans
About 24 circle gummy candies
Directions:
To make the frosting: Mix butter and 4 cups of sugar together. Slowly add in milk, remaining sugar and almond extract until fully mixed.
To decorate: Frost the cupcakes with a butter knife (once cooled). To make frosting smooth, run a warm knife over it. Place a circle candy in the center of the cupcake and then put a black jelly bean in the middle. Using the red food gel, make squiggly lines coming out of the "eye" center (so they look bloodshot!) Chill for about 10-15 minutes then enjoy!
Now what's stopping you? Go start decorating some Halloween cupcakes!
More Halloween ideas
Halloween decorating dos and don'ts
Quick and easy Halloween food and drink tips
Healthy Halloween recipes