Fall Recipes
With Seasonal Produce
Celebrate the flavors of fall by filling your family's dinner plates with in-season fruits and vegetables. Whether you visit your local farmers market or take a list of seasonal produce with you to the supermarket, eating with the seasons will bolster your diet with fruits and veggies at their peak nutrient-density and freshest flavor. Here are eight of the healthiest fall fruits and vegetables along with recipes to help you with your weekly meal planning.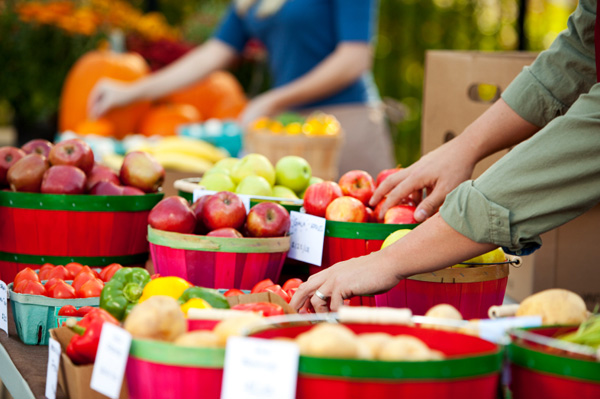 Apples
The adage "An apple a day keeps the doctor away" is enough to steer you to these iconic autumn gems. Apples are low in calories and rich in vitamins, minerals, antioxidants and fiber, which can ward off chronic medical conditions, such as heart disease, cancer, Alzheimer's and diabetes. With the delicious array of apple varieties to choose from, you have no excuse to not munch on an apple or two a day.
Apple bacon cheddar melt
Spicy apple chutney
Yummy apple desserts
Beets
Gorgeous red and golden beets are loaded with folate, manganese, potassium, vitamin C, iron, fiber and other health-promoting nutrients. Earthy sweet, beets are rich in antioxidants and anti-inflammatory properties and are a tasty way to fight off cancer and other chronic diseases. Though beet season begins in summer, they are available through October.
Fresh beet and carrot slaw
Beet feta walnut quiche
Roasted beet and pear salad
Cabbage
A member of the cancer-fighting crucifer family, cabbage is a low-calorie, nutrient-dense fall vegetable that can be used in a tasty array of healthy recipes. In addition to being loaded with vitamin C, cabbage delivers nearly 100 percent of the daily value for vitamin K, a vitamin which plays a major role in blood clotting, bone health and heart health. The nutrients in cabbage have both antioxidant and anti-inflammatory properties.
8 Things to do with napa cabbage
Cabbage radish orange salad
Shrimp tacos with cabbage
Cauliflower
Another nutritionally-advantaged member of the crucifer family, cauliflower contains high amounts of vitamins C, K and B6, folate, antioxidants and fiber. Low in calories and mildly bitter in taste, this cancer-fighting fall veggie comes in at only 25 calories per cup.
Pasta with cauliflower and ricotta
Pan seared salmon with cauliflower and pine nuts
Cauliflower puree topped with crisp coconut chicken
Clementines
Locally available in late fall, clementines are a refreshingly sweet-tart fruit boasting vitamin C, folate, potassium, fiber and antioxidants. Citrus is a delicious boon to skin health, heart health, and the fight against cancer. Each clementine is only 50 calories, making it a healthy snack and yummy addition to sweet and savory recipes.
Clementine parfait
Sugar snap peas with clementines and mint
Clementine cheesecake with gingersnap crust
Figs
Luscious fresh figs are one of the best sources of fiber amongst fruits and veggies. Figs are also rich in potassium and manganese and other health-promoting nutrients. Bite into a fig to ward off heart disease and some cancers, promote weight loss, boost bone and eye health and control blood sugar.
Fig and goat cheese stuffed chicken
Prosciutto wrapped figs
Curried pineapple fig and coconut salsa
Pomegranates
Supercharged with antioxidants, pomegranates can help you combat cancer, control joint pain, ward off heart disease, fight Alzheimer's and promote dental health. Crack a pomegranate open for its juicy sweet arils, which can be juiced, scattered in salads, folded into yogurt and used as a garnish for desserts.
Blackened shrimp with pomegranate and orange salad
Pomegranate sorbet
Pomegranate kiss cocktail
Pumpkin
A quintessential fall fruit (yes, pumpkin is a fruit!), pumpkin reigns supreme when it comes to health-promoting nutrients. Low in calories and packed with antioxidants, fiber, vitamins C and E, potassium and magnesium, pumpkin can boost your immune system, promote heart health, reduce joint pain, reverse skin damage, improve eye health, fight cancer and help with weight loss.
Crockpot pumpkin butter
Pumpkin spinach enchiladas
Pumpkin parfaits