Healthy College Eats
Your child is packing up to head to college -- and along with that sad tug in your heart, you feel concern for her health now that she will be fending for herself when it comes to her diet. We turned to Iva Young, author of Healthy Mom (Yorkshire Publishing, May 2010) and mom of two, to see how moms can send their children off to college with healthy eating habits. Here's what the health expert had to say.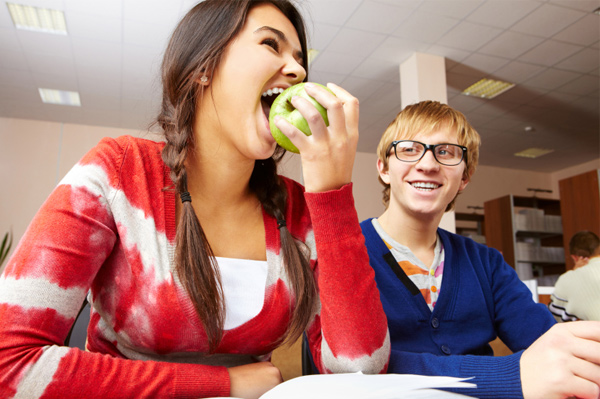 "Going to college can be exciting and scary, with moms and kids feeling the joys and fears of making the transition," says Young. "One of the most common dilemmas that college students experience is how to handle the typical college eating life, but moms can help their children put together great eating strategies." Here's what she says you need to tell your kids about eating in college:
Drink lots of water all day long.
Adequate water intake is crucial for health, curbs cravings and helps manage weight. "Many college students get wrapped up into purchasing juices and sodas, only to cause their bodies unnecessary work as they burn the energy from these calorie-rich beverages," explains Young. Not getting enough water puts your kids at risk for dehydration and even heat-related illness, if they are playing sports or working out. "Start off each day with 16 ounces of fresh water," recommends the health expert.
Eat a protein-rich food with each meal.
The typical college cuisine consists of late-night pizza, vending machine snacks and high-carb cafeteria food. Emphasize to your kids that carbing up increases the likelihood of the dreaded "freshman 15" weight gain and can hinder classroom and homework performance. "Consuming carbohydrate-rich foods causes blood sugar to rise and crash," says Young. "Students don't want blood sugar crashes because it causes productivity to drastically go down." She strongly recommends adding protein-rich foods to every college meal and snack. "Some great choices are organic eggs, cheese, lean meat, nuts, seeds, beans and nut butters," she adds.
Eat healthy fats throughout the day.
Kids need fat in their diets -- good fats. "Naturally, what's most readily available for college students is fast and convenient 'bad' fat foods," Young warns. "Being aware of this and knowing to search for healthy fats will help college students in a big way." She recommends giving your kids a list of healthy fats to include in their daily meals, such as avocado, nut butters, nuts, olives, olive oil, flaxseed oil, grapeseed oil, seeds and organic butter. Students can get some of these in the cafeteria and can keep others in a small dorm fridge. Consuming these good fats helps keep students full longer, increases brain and hormone function, and boosts the immune system.
Eat plenty of whole grains.
While pizza, chips, sandwiches, pastas, crackers, cookies and other starches dominate the typical college menu, whole-grain choices are increasingly available. "Students should look for grain-based foods that are labeled whole wheat or whole grain. Make sure that the very first ingredient listed is a whole grain," Young explains. "Increasing whole grain intake will improve digestion, which is the key to overall health. In return, students will be happier and healthier, with better studying habits and bigger gains in school (not weight)."
Eat a salad every day.
"Salads are a tasty [source] of nutrient-dense vegetables and an incredible amount of antioxidants, which improve the immune system and fight off a slew of health issues," says Young. She suggests tossing together a variety of greens and other vegetables and drizzling modestly with extra-virgin olive oil and white wine vinegar. Other healthy salad additions include beans, nuts, dried or fresh fruit, and even cooked whole grains, such as quinoa, wild rice or whole-wheat pasta. The cafeteria salad bar is a great place to frequent as long as the bulk of the salad is fresh veggies and low-cal dressings; hungry students should minimize or avoid high-calorie dressings, shredded cheese, and fried croutons.
Cookbooks for college kids
While your kids are in college and in learning mode, they'll naturally turn to books for information. Give them a couple of college-friendly cookbooks to help them cobble together nutritious meals.
A few of our favorites:
More tips for parents of college-age kids
Care package ideas for college students
Vaccines for high school and college freshmen
How parents & college students can survive the first year