MasterChef Winner
Wows With Quail
She left adductor muscles attached to her pan-seared scallops. He screwed up a chocolate torte. No, the meals prepared by the two finalists of MasterChef Season 2 were not perfect. But, oh, how far they'd come.
(page 2 of 2)
Coconut Curry Lentil Soup with Spicy Shrimp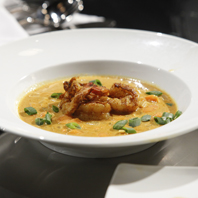 Recipe Courtesy of Jennifer Behm
Makes 4 servings
Ingredients:
12 shrimp
pinch of cumin
pinch of turmeric
pinch of curry powder
pinch of cayenne
Sriracha, to taste
salt and pepper
extra-virgin olive oil
1/3 cup red lentils
1/3 cup green lentils
1 teaspoon turmeric
1 teaspoon cumin
1 teaspoon curry powder
1 teaspoon ginger
2 tablespoons butter
1 medium white onion, diced
2 large carrots, diced
2 garlic cloves, minced
1 cup chicken stock
15-ounce can coconut milk
1 teaspoon red curry paste
1 teaspoon curry paste
1 1/2 teaspoon tomato paste
scallions for garnish
Directions:
Peel and clean shrimp, marinate in pinches of cumin, turmeric, curry powder, cayenne, Sriracha, salt, pepper, and extra-virgin olive oil.
Rinse green and red lentils, set aside.
Toast turmeric, cumin, curry powder and ginger in small saute pan over low heat.
In a large saute pan, saute onions and carrots in 2 tablespoons of butter until onion is slightly translucent, then add garlic. Cook for 2 minutes.
Deglaze the pan with 1 cup. chicken stock. Add toasted spices, coconut milk, curry paste, tomato paste, lentils and simmer over low heat for 15-20 minutes.
Heat a grill pan to medium high heat, cook shrimp 3 minutes each side.
Spoon soup into bowls, place 3 shrimp tail up in the middle of each bowl, garnish with scallions.
Photo credit: Fox
More recipes with curry
What can I do with curry?
Caramelized Leek and Chicken Coconut Curry
Coconut Chicken Curry