Give Bagged Salad
The Heave-Ho
The weather is hot and who wants to turn on the oven to make a meal? Summertime is a great time of year to learn about basic salad greens and how to work with them. When you know the basics, you'll be able to make fabulous salads that turn your friends green with envy.
(page 2 of 2)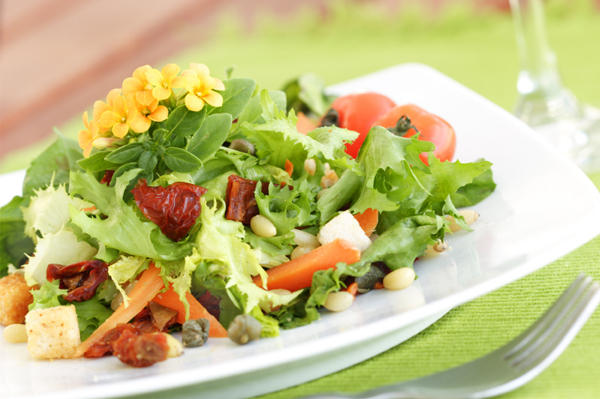 Nutrition
The nutritional content varies among the greens, but they're typically a great source of vitamins A and C, potassium, iron, calcium and fiber.
For the biggest bang for your nutritional buck, look for leaves that are dark green – the darker they are, the higher they are in nutritional value. Iceberg lettuce probably ranks lowest.
How to select, clean and store your salad greens
Why you're ready to choose the greens you'd like, look for leaves that are crisp and not wilted. Sometimes in a head of lettuce, the outer leaves might look a bit ragged but you can gently inspect the inner leaves to ensure they look good.
For a head of lettuce, cut the root away from the leaves and separate the leaves individually.
Instead of running cold water from your sink over the leaves, add them to a large bowl filled with water. Swish them around then allow them to remain in the water for a minute or so. You can change the water once and repeat if you'd like. Next, gently shake off the excess water from the leaves and place them on a clean dishtowel. Pat them dry. Dry greens are best for salads, keeping them crisp and helping the dressing stick.
Tips
Salad spinners are great for cleaning greens. A salad spinner looks similar to a colander with an outer bowl, a lid and a mechanism to make it spin. To clean and help dry your greens, fill the colander/bowl with water. Swish and remove the dirty water until you're satisfied. Keep the leaves in the colander/bowl, add the lid and spin it. The motion flings off the water to help dry the greens.
If you're only using some of your greens, keep the remainder fresh for another time. Roll up the cleaned, leftover leaves in paper towels. Any remaining moisture from the cleaned leaves will transfer to the paper towels for better storage. Place the greens rolled in the paper towels in a plastic bag and keep them in your refrigerator. Your greens should last for several days this way.
Don't store your salad greens near fruit. The fruit releases ethylene gas that can cause salad greens to turn brown.
When you're ready to make your salad, tear the greens into bite-sized pieces instead of cutting them with a knife. This helps prevent the greens from bruising and losing their crunchiness.
Garnish and gusto
Whether you're looking for a garnish or something more substantial, you can add just about anything to a salad to make it special. Consider some of the following: 
Garnishes for salads:
Croutons
Edible flowers
Fruit like pears, apples or grapes
Nuts and sunflower seeds
Radishes
Sectioned citrus fruit
Shaved carrots
Shaved cheese
More-of-a-meal for salads:
Avocado
Beans (garbanzos, black, kidney, peas)
Brown rice
Hard boiled eggs
Potatoes
Quinoa
Shrimp
Steak
The sky is the limit when it comes to salads. Once you know the different varieties available and what works well with each, you can make a simple lunch or a hearty dinner to satisfy family and friends.
Try these tasty super salad recipes