From Banker
To Baker
From cupcake shops and cookbooks to countless cupcake decorating accessories, cupcakes are currently fascinating the nation. Arleen Scavone, known as the banker turned baker, loves cupcakes so much, she opened a bakeshop called Sweet Arleen's and took the ultimate cupcake challenge on Food Network's Cupcake Wars. She not only won, but she is competing again in the upcoming super challenge against other winners on July 12. We asked Scavone to share the secret to her success in following her cupcake dream and her favorite cupcake recipe.
(page 2 of 2)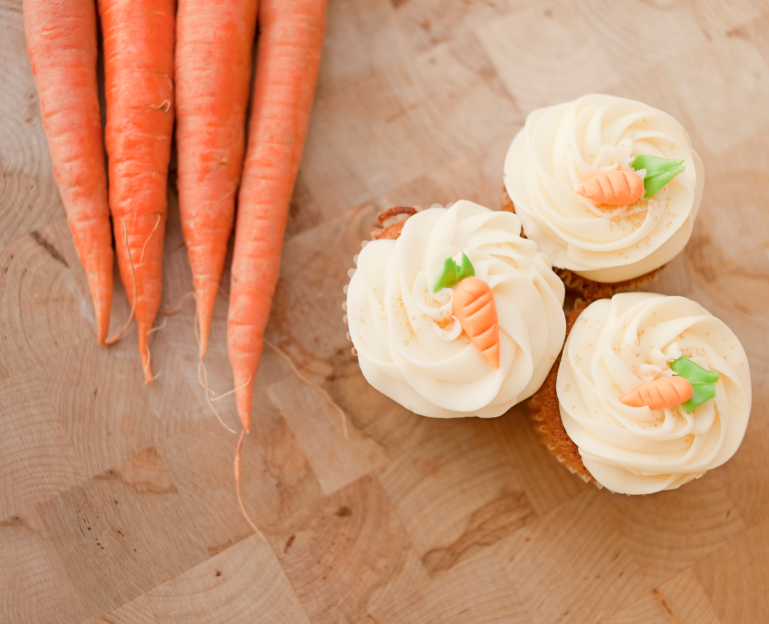 Carrot Walnut Cupcakes with Cream Cheese Icing
When the crave for award winning cupcakes arises, and you can't make it to Sweet Arleen's, Scavone suggests getting in your kitchen and baking her Carrot Walnut Cupcakes with Cream Cheese Icing.
Carrot Walnut Cupcakes
Makes 12
Ingredients:
1 cup all-purpose flour
1/2 teaspoon baking soda
1/2 teaspoon salt
1 teaspoon ground cinnamon
1/2 cup granulated sugar
1/2 cup packed dark brown sugar
2 large eggs
3/4 cup vegetable oil
1 1/4 cups shredded carrots
1/4 cup chopped walnuts
Cream Cheese Icing (recipe below)
Directions:
Preheat oven to 350 degrees F. and line a muffin pan with muffin papers.
In a large bowl, sift together flour, baking soda, salt and cinnamon.
In another bowl, by hand or with an electric mixer, beat together granulated and
dark brown sugars, eggs and vegetable oil.
Add dry ingredients, mixing until blended. Fold in carrots and walnuts.
Turn into 12 paper-lined muffin cups, filling 2/3 full. Bake for 20 to 25 minutes or until done. Cool and frost with cream cheese icing.
Cream Cheese Icing
Ingredients:
1 (8-ounce) package cream cheese, softened
1/4 cup butter, softened
2 tablespoons sour cream
1 (1-pound) box powdered sugar
2 tablespoons pure vanilla extract
Directions:
In bowl with an electric mixer, beat cream cheese and butter until creamy. Beat in sour cream.
Slowly beat in powdered sugar, scraping the bowl often, until well mixed.
Beat in 2 tablespoons vanilla until incorporated. Frost cupcakes.
More cupcake recipes
Creamsicle cupcakes in a jar
Mini strawberry lemonade cupcakes
Firecracker cupcakes in a jar