Kid-Friendly Summer Snack Recipes & Tips
School's out for summer and your kids need healthy snacks to keep them well-fueled for their fun in the sun. If your pantry is packed with processed convenience foods, Nicole Selinsky, a children's nutrition expert, says it's time for Mom and kids to deliciously embrace healthy summer snacking. Here are Selinsky's snacking tips and recipes.
(page 5 of 5)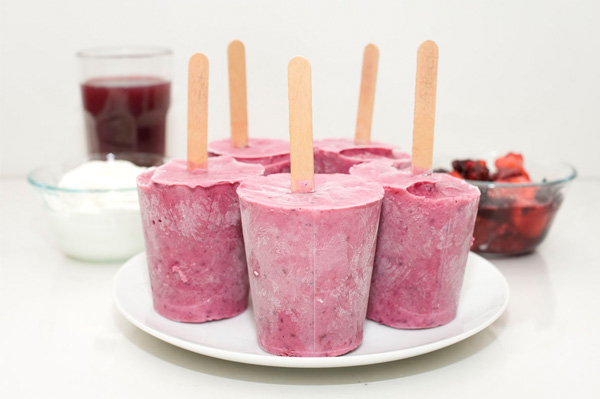 Berry Pops
Makes 6 servings
Ingredients:
1/3 cup berry juice blend
1 envelope of unflavored gelatin
1-1/2 cups low-fat vanilla yogurt
1-1/4 cups frozen unsweetened berries
Directions:
Place the juice in a pan and sprinkle the gelatin over it. Cook over low heat, stirring constantly with a wooden spoon until gelatin crystals dissolve.
Remove the pan from the heat and place on a hot pad.
Blend yogurt, berries, and warm gelatin mixture in a blender until smooth.
Fill 6-ounce cups with the blended mixture and cover each with a sheet of aluminum foil. Place the cups on a cookie sheet.
Insert the popsicle stick in each cup by making a slit in the foil. Place the tray in the freezer and freeze until hard. Peel away the paper and enjoy!
Nutrition Facts (1 popsicle): Calories: 71; Fat: 1 gram; Protein: 3 grams
More kid-friendly snack recipes
10 Fun kid snacks to pack
Healthy snacks and lunch recipes for kids
Family-friendly organic snacks