The Boys Of Summer
Share Their Plate
Diamond Dishes peeks inside the kitchens of the major league's hunkiest all stars -- and we think you'll like what you see. Impress the baseball fan in your life by preparing Derek Jeter's buttermilk pancakes or A-Rod's grilled T-bone steaks. How you spend your time looking at the player photos is entirely up to you.
(page 4 of 4)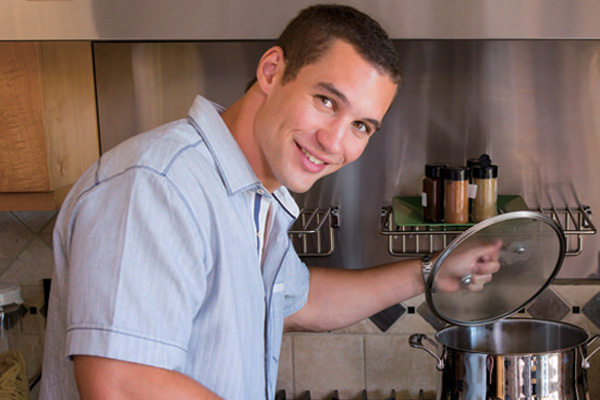 Grady Sizemore
Outfielder, Cleveland Indians
Chili is another dish that ballplayers universally love. This is the way Sizmore's Aunt Tonya makes her nourishing ground beef version. If you like a thicker chili, stir a few tablespoons of yellow cornmeal into the pot at the end of the cooking time.
Aunt Tonya's Chili
Makes 6-8 servings
Ingredients:
2 pounds ground round (85 percent lean)
2 tablespoons vegetable oil
1 large onion, chopped
4 garlic cloves, minced
1 jalapeno, seeded and minced
3 tablespoons chili powder
1 teaspoon ground cumin
1 (15-ounce) can tomato sauce
1 (15-ounce) can vegetarian refried beans
1 (6-ounce) can tomato paste
1/2 cup green salsa
1 (19-ounce) can kidney beans, drained and rinsed
12 ounces lager beer
Salt and freshly ground pepper, to taste
Hot red pepper sauce, to taste
Shredded mild cheddar, sour cream, and tortilla chips, for serving
Directions:
Cook the ground round in a Dutch oven or flameproof casserole over medium-high heat, stirring often and breaking up the meat with the side of a spoon, until it loses its raw look, about 10 minutes. Drain in a colander.
Heat the oil in the Dutch oven over medium heat. Add the onion, garlic, and jalapeno and cook, stirring occasionally, until the onion is tender, about 5 minutes. Return the ground round to the Dutch oven, sprinkle with the chili powder and cumin, and stir well. Stir in 1 1/2 cups water, the tomato sauce, refried beans, tomato paste, and salsa and bring to a simmer. Reduce the heat to medium-low and cover. Simmer for 20 minutes.
Stir in the kidney beans and beer. Simmer until the sauce is slightly thickened, 15–20 minutes. Season with salt and pepper and hot red pepper sauce.
Ladle the chili into bowls and serve with the cheddar, sour cream, and tortilla chips on the side.
Excerpted from DIAMOND DISHES: FROM THE KITCHENS OF
BASEBALL'S BIGGEST STARS By Julie Loria. Copyright 2011
by Julie Loria with permission of Lyons Press / Guilford, CT.
Derek Jeter photo credit EJ Camp. Hanley Ramirez photo
credit EJ Camp. Grady Sizemore photo credit EJ Camp.
David Wright photo credit Alexandra Penney.