The Boys Of Summer
Share Their Plate
Diamond Dishes peeks inside the kitchens of the major league's hunkiest all stars -- and we think you'll like what you see. Impress the baseball fan in your life by preparing Derek Jeter's buttermilk pancakes or A-Rod's grilled T-bone steaks. How you spend your time looking at the player photos is entirely up to you.
(page 3 of 4)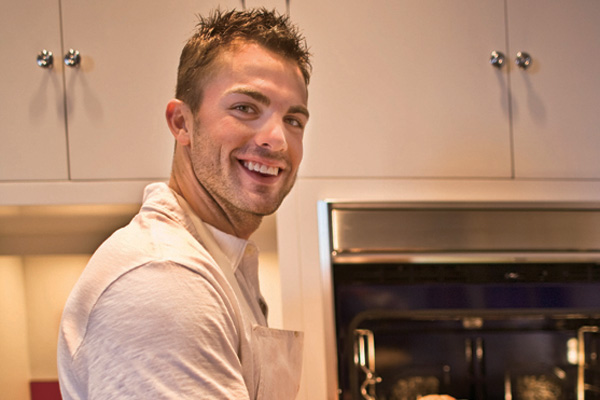 David Wright
Third Baseman, New York Mets
If you think that it would be hard to improve on the classic American apple pie, you might want to try this tweak: Apples have a huge variety of flavors (tart, sweet, honey-like) and textures (crisp, tender, crunchy), and mixing different apples makes for a more interesting pie.
Apple Pie
Makes 8 servings
Ingredients for flaky pie dough:
2 cups all-purpose flour, plus more for rolling out the dough
1-1/2 tablespoons sugar
1/2 teaspoon salt
6 tablespoons (3/4 stick) cold unsalted butter, cut into 1/2-inch cubes
6 tablespoons vegetable shortening, chilled, cut into 1/2-inch cubes
1⁄3 cup ice water, or as needed
1 teaspoon milk
2 teaspoons sugar
Directions:
To make the pie dough, mix the flour, sugar, and salt together in a medium bowl. Add the butter and shortening.
Using a pastry blender or two knives, cut the fats into the flour until the mixture looks like coarse crumbs with some pea-sized pieces.
Using a fork, gradually stir in ice water until the mixture is evenly moistened and begins to clump together. (You may need more or less water.)
Gather up the dough and cut into two portions, one slightly larger than the other. Shape each portion into a flat disk, and wrap each in plastic wrap.
Refrigerate for at least 1 hour and up to 2 hours. The dough is easiest to roll out if chilled, but not hard.
Ingredients for filling:
1-1/2 pounds sweet and firm apples, such as Golden Delicious or Empire or Fuji, peeled, cored, and cut into 1/4-inch wedges
1-1/2  pounds tart and crisp apples, such as Granny Smith or Cortland peeled, cored, and cut into 1/4-inch wedges
1/2 cup sugar
1/2 cup packed light brown sugar
1 teaspoon ground cinnamon
1/4 teaspoon freshly grated nutmeg
1/4 teaspoon salt
2 tablespoons unsalted butter, cut into cubes
All-purpose flour, for rolling out the dough
Directions:
Position a rack in the bottom third of the oven and preheat the oven to 400°F. Line a rimmed baking sheet with aluminum foil.
Combine the apples in a large bowl. You should have 7–8 cups. Add the granulated and brown sugars, cinnamon, nutmeg, and salt and mix well.
On a lightly floured work surface, roll out the large pastry disk into a 13-inch-diameter round about 1/8 inch thick. Transfer to a 9-inch pie dish. Add the filling and scatter the butter on top. Roll out the remaining disk into a 10-inch-diameter round about 1/8 inch thick, and center on top of the filling. Cut out a 1-inch diameter hole in the center of the top crust. Pinch the top and bottom crusts together and flute the edges. Place on the baking sheet.
Bake the pie for 15 minutes. Reduce the oven temperature to 350 degrees F and continue baking until the crust is golden brown and the filling is bubbling in the center hole, about 1 hour. Transfer to a wire cake rack and let cool completely. Slice into wedges and serve.
Up next: Grady Sizemore's chili >>