The Boys Of Summer
Share Their Plate
Diamond Dishes peeks inside the kitchens of the major league's hunkiest all stars -- and we think you'll like what you see. Impress the baseball fan in your life by preparing Derek Jeter's buttermilk pancakes or A-Rod's grilled T-bone steaks. How you spend your time looking at the player photos is entirely up to you.
(page 2 of 4)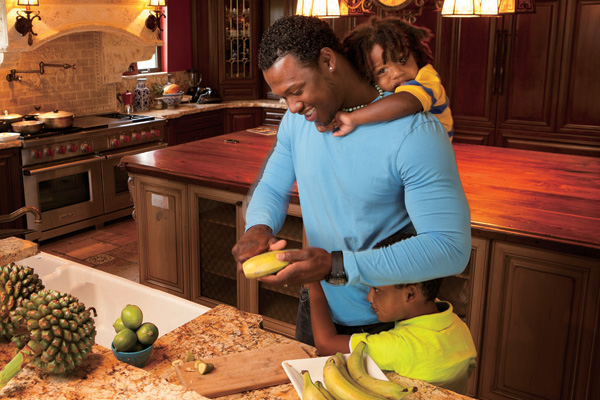 Hanley Ramirez
Shortstop, Florida Marlins
Plantains are closely related to bananas, but they are larger, with very tough skin, and not as sweet—they are really more like a potato than a fruit. Because of their dense consistency, plantains are never eaten raw, but rather are steamed, fried, baked, or boiled. Tostones are plantains that are fried twice to give them a crunchiness that puts potato chips to shame. A special press is used to flatten the plantains into waffled chips, but the pointed end of a meat pounder or the bottom of a measuring cup works well, too although your tostones won't be perforated).
Tostones
Makes 6-8 servings
Ingredients:
4 green plantains*
Vegetable oil, for deep-frying
Salt
| | |
| --- | --- |
| | *Plantains are sold in three stages of ripeness: green (hard, unripe, and starchy), yellow (firm, ripe, and less starchy), and black (softening but not soft, very ripe, and very sweet). |
Directions:
Trim off the tip and stem of each plantain. Cut into the skin of each plantain, using the tip of a sharp paring knife, following the ridges that run the length of the plantain and reaching just into the plantain flesh. Slip your thumb underneath the skin (you may need to make another incision between the skin and flesh to get started), and remove the skin in sections. Trim off any skin left on the flesh. Cut the plantains into 1-inch chunks.
Pour oil into a large, heavy skillet to come halfway up the sides and heat over high heat to 350 degrees F. Line a large plate or small platter with paper towels.
In batches, without crowding, deep-fry the plantains, turning once, until light golden brown on both sides, about 5 minutes. Using a wire spider or slotted spoon, transfer the fried plantain chunks to the paper towels to drain and cool slightly, about 5 minutes.
Using the bottom of a measuring cup, apply pressure to individual plantain chunks to flatten each into a chip about 1/4 inch thick.
Reheat the oil to 350°F. In batches, deep-fry the flattened plantains until very crisp and golden brown, about 3 minutes. Using the wire spider, return the tostones to the paper towels to drain. Season with salt and serve warm.
Up next: David Wright's apple pie >>