Father'S Day
Food Gifts
Scrumptious desserts, succulent meats, grilling tools and wine making kits: These are the Father's Day gifts the foodie dad wants. If you're still looking for the perfect gourmet gift for Dad, here is a tasty array of foods, cooking gadgets and accessories for his favorite beverages, ranging from $5 to $250.
(page 2 of 2)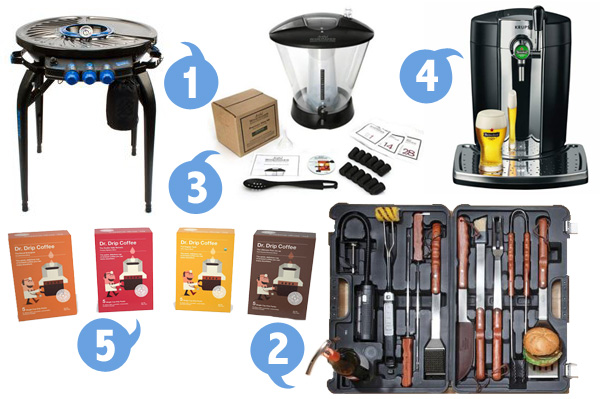 $250
For the dad who loves to cook everything everywhere, the Blacktop 360 Party Hub Grill Fryer gives Dad the ability to grill, deep fry, griddle, stir-fry, boil and sear -- plus, he can even melt fondue. Designed to be the center of the party and easy to transport, this revolutionary multi-use cooking tool features a round cooktop that has four distinct cooking areas, accessories rail, independent heating controls, deep fryer and carry bag. The Party Hub Grill Fryer uses a standard one-pound propane canister but can accommodate an optional hose for 20-pound tank use.
$100
Named the Best Overall BBQ Tool Set by The Wall Street Journal, this 10-piece array of stainless steel barbecue tools includes a spatula, tongs, fork, knife, grill light, three-in-one waiter's corkscrew, basting brush, skewers, cleaning brush and a Super-Bright Chef's Fork for nighttime cookouts -- everything Dad needs for professional-grade barbecuing. It also features a built-in thermometer with 16 doneness levels. All the tools fit neatly into a durable molded case.
$150
Did your dad relish his college days when he and his buds brewed their own beer? If his tastes have now turned to wine, surprise him with a DIY winemaking system. This revolutionary all-inclusive system has everything Dad needs to make his own private reserve wine in just 28 days and three easy steps. Each system comes with the winemaker, grape juice and other winemaking ingredients, 12 wine bottles, closures and even labels.
$100
Designed for the dad who is a true beer connoisseur and prefers his beer on tap, Krups BeerTender will keep his brew of choice at its optimal serving temperature while giving him the perfect homebar gadget for entertaining like-minded beer lovers. Krups partnered with Heineken in creating the BeerTender, making it compatible with the Heineken, Heineken Light and Newcastle DraughtKeg systems. As a bonus for dads or granddads with minors in the house, the tap is removable, which helps prevent underage persons from accessing the contents.
$9 for 5-packet box
Whether it's working the 9 to 5 or completing the honey-dos around the house, all dads need a pick-me-up. Perfect for the job is Dr. Drip, a portable single-serving drip brewing system. With a variety of 100 percent fair-trade and organic Arabica bean blends each packaged in a vacuum-sealed pouch, Dad can get instant satisfaction and quality coffee without expensive equipment or the taste of instant. Whether on the go, at the office or on an outdoor adventure, Dr. Drip coffee is accessible, portable and can be enjoyed with just hot water.
More Father's Day gift ideas
Father's Day cookbooks
10 Father's Day gifts dads really want
7 Unique Father's Day gifts