Cookbooks
Your Dad Will Love
For the dad who relishes his time in the kitchen or over the grill, we have seven tasty cookbooks to wrap up for a Father's Day gift he'll relish.
(page 2 of 2)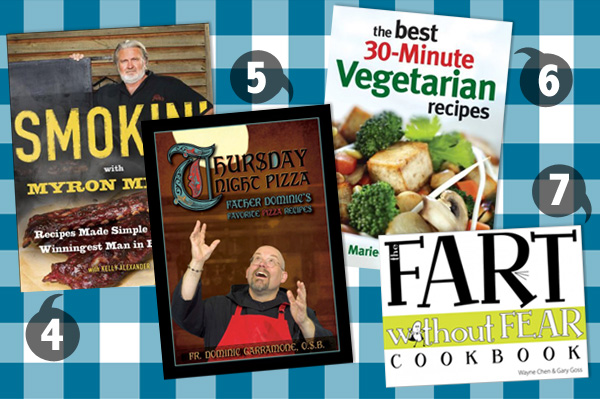 Smokin' with Myron Mixon
If your dad never misses an episode of TLC's BBQ Pitmasters or if he spends his free time happily manning a smoker or grill, you have to get him Smokin' With Myron Mixon (Ballantine, May 2011). The breakout star of TLC's BBQ Pitmasters and part of the award-winning Jack's Old South Competition Bar-B-Que Team shares 70 of his prized recipes, including Sausage-Stuffed Pork Chops, Smoked Jack Bologna, Baby Back Ribs, Smoked Trout and his favorite recipes that aren't smoked or grilled. Best yet, Smokin' gives Dad top tips for choosing the right wood, smoker and grill, as well as formulas for Mixon's winning marinades, rubs, injections and sauces. Mixon even includes how to cook a whole hog.
Thursday Night Pizza
Pizza is a universally loved meal that is too often delivered from the local pizza joint or popped into the oven out of a freezer box. For the pizza-digging Dad who enjoys his time in the kitchen, Thursday Night Pizza (Reedy Press, October 2010) by Fr. Dominic Garramone is an eclectic compendium of pizza-making tips and recipes, including six different doughs and seven sauces. Our favorite pizza picks include Pesto and Proscuitto Pizza, Muffaletta Pizza, Pizza Diavolo and Papaya Dessert Pizza.
The Best 30-Minute Vegetarian Recipes
If your dad has embraced a meat-free diet or is incorporating more plant-based meals into his everyday cooking, The Best 30-Minute Vegetarian Recipes (Robert Rose, April 2011) will give him a tasty collection of rich, varied and healthy meat-free recipes. Written by bestselling cookbook author Marie-Claude Morin, this family-friendly cookbook features quick-to-fix vegetarian foods ranging from appetizers to entrees to desserts. Recipes include Brie Baguette Bites, Sunny Side Up Western Sandwiches, Vegetable Curry and Banana Honey Fritters.
The Fart Without Fear Cookbook
What's cooking if you can't have fun with it? The Fart Without Fear Cookbook (Publishing Works, January 2011) by chefs Wayne Chen and Gary Goss is a laugh-out-loud comfort food cookbook. Just reading the title will make Dad chuckle, but as he pores over the rest of the book, he'll also find 70 tummy-yummy recipes, humorously titled chapters, fun facts, fearless menu suggestions for the holidays, and recipe-changing tips to reduce flatulence. Recipes include New England Clam Chowder, Boston Baked Beans, Meatloaf, Fartichoke Dip and a variety of "deadly desserts," such as Pound Cake and Beaver Tail Pastry.
More Father's Day gift ideas
10 Health products for your man
Father's Day gifts dads really want
Foodie Father's Day gifts