Add Something Sweet To Your Chicken Fingers
You may think of Cap'n Crunch® as just a breakfast cereal, but it can be a delicious topping for all sorts of things from frozen yogurt to French toast to chicken fingers.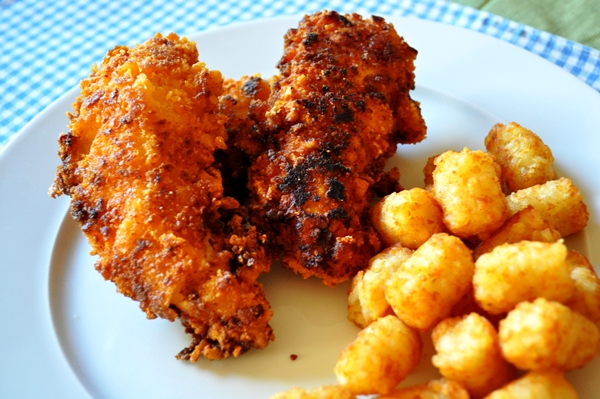 There's a restaurant in my town that makes a spectacularly evil Cap'n Crunch® French toast as part of their breakfast menu. It's so good, it's all I ever get when I go there.
Well, I wanted to try and recreate the recipe with my own special twist: I added freeze dried strawberries to the batter and it was amazing. There was just one problem with this delicious recipe, I now have a whole box of Cap'n Crunch® cereal sitting on the shelf waiting to be eaten.
A couple days ago I heard about another recipe that used Cap'n Crunch® as an ingredient -- chicken fingers. I love chicken fingers. They're easy to make, always a huge hit, and they taste different every time depending on the mixture of spices you use. So, when I heard about adding Cap'n Crunch® to the breading, I jumped on board. The tenders were just as I'd imagined -- crispy with just the right amount of salty sweetness. They're the perfect answer for those late night cravings when you can't decide whether to go salty or sweet. Luckily, with these chicken tenders, you won't have to choose.
Cap'n Crunch® Chicken Tenders
Ingredients
1 1/2 pounds chicken tenders
2 cups buttermilk
1 cup flour
1 tablespoon kosher salt
2 teaspoon fresh ground black pepper
3 cups Cap'n Crunch® cereal
1/2 cup vegetable oil
Directions
Pour the buttermilk into a large bowl and soak the chicken in it for 6 to 12 hours. While the chicken soaks, place the cereal in a large zip-lock bag and seal the bag; crush the cereal with a rolling pin and pour into a large bowl; add the salt, flour, and black pepper and whisk it all together.
Dip the chicken into the Cap'n Crunch® mixture and coat thoroughly; repeat with the rest of the chicken tenders.
Pour the oil into a large skillet and heat over medium-high heat until the temperature reaches 360 degrees F. Working in batches, carefully place a few tenders into the oil and fry until coating is a nice golden brown, about 3 minutes per side. Serve with your favorite dipping sauce.
Other Fried Chicken Recipes