Summer Sizzle
For Your Soiree
Warm weather makes everyone a bit more social, and gathering around the grill is a great way to catch up and fill up. Here are five grilling recipes that will get taste buds dancing at your summer gathering.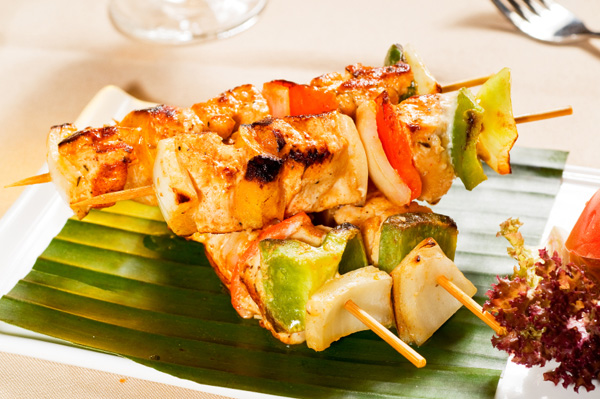 Grilled Chicken with Fruit Salad
Yields 6 salads
Ingredients:
1 pound chicken breast
1/4 cup pecans
1/3 cup red wine vinegar
1/2 cup white sugar
1 cup vegetable oil
1/2 onion, minced
1 teaspoon ground mustard
1 teaspoon salt
1/4 teaspoon ground white pepper
2 heads favorite lettuce
1 cup sliced strawberries
Directions:
Preheat grill on high. Oil grill grate.
Grill chicken breast until juices are clear. Cool, slice and set aside.
Cook pecans in dry grill skillet about eight minutes, or until roasted.
Blend vinegar, oil, sugar, onion, pepper, salt and mustard in a blender until smooth.
Rinse and tear lettuce onto plates and top with chicken, pecans, strawberries and dressing to taste.
Grilled Chicken Kabobs
Yields 4 kabobs
Ingredients:
1 pound chicken breast
1 24-ounce bottle favorite Italian dressing
1 onion
1 bell pepper
1 can whole tomatoes
1 can whole new potatoes
Directions:
Cube chicken breast and place in bowl with entire bottle of Italian dressing. Let marinate overnight.
Chop onion, pepper, tomatoes and potatoes into skewer-sized cubes.
Place chicken on separate skewers from vegetables and grill on each side on high for about eight minutes, until juices run clear.
Place vegetable skewers on grill, turning until slightly blackened and hot. Serve.
Grilled Peppers
Yields 6 servings
Ingredients:
3 bell peppers, cut in half
1/2 cup sliced jalapeno peppers
1/4 teaspoon dried oregano
1 cup shredded mozzarella cheese
Directions:
Place grill on medium heat and oil grill grate.
Place peppers onto grate and grill until lightly blackened.
Turn peppers face up, and place jalapeno peppers onto peppers, sprinkling with mozzarella.
Sprinkle oregano on top of mozzarella and cook until cheese is melted. Serve.
All-purpose sweet & spicy marinade
Yields 6 servings
Ingredients:
2 1/2 tablespoons honey
3 tablespoons Worcestershire sauce
1/4 teaspoon vanilla extract
1 teaspoon cumin
1 tablespoon hickory-flavored liquid smoke
1 tablespoon olive oil
1 teaspoon minced onion
1 teaspoon garlic powder
1 teaspoon balsamic vinegar
Salt to taste
Directions:
Mix all ingredients in medium bowl and pour over your favorite steak, chicken, tofu or vegetables.
Let marinade overnight and grill.
Lemon Chicken
Yields 4 servings
Ingredients:
1/2 cup lemon juice
1/4 cup vegetable oil
3 tablespoons chopped onion
1/2 teaspoon salt
1/3 teaspoon pepper
1/2 teaspoon dried thyme
1 clove minced garlic
2 pounds chicken breast
Directions:
Combine lemon juice, vegetable oil, onion, salt, pepper, thyme and garlic in large bowl.
Place chicken breast in bowl and marinate overnight.
On high heat, grill chicken breast on both sides until juices run clear.
Summer barbecue how-to
How to grill a whole chicken
Need tips on how to grill the perfect chicken? Watch this video and become an expert!
Summer entertaining tips
How to prepare for summer entertaining
Tips for summer entertaining in style
Top 10 summer entertaining necessities
More From SheKnows Explorer