Healthy Family Meals
You want your kids to eat wholesome, healthy foods at every meal, but when you are dealing with little ones who would prefer to survive on a diet of string cheese and waffles, sometimes it takes a little creativity. These healthy and kid-friendly meal ideas will be a hit with everyone in your family. Kid tested. Mom approved.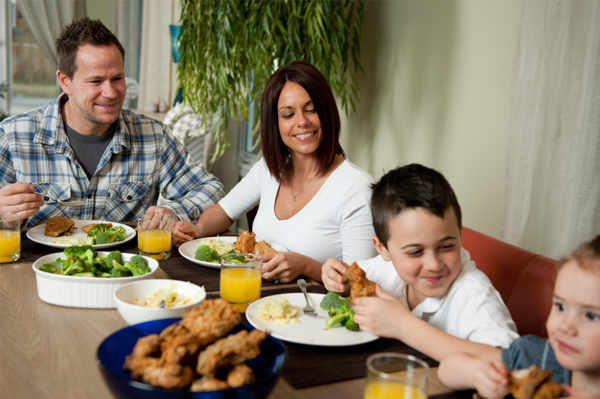 Oven fried chicken
Who doesn't love fried chicken? This recipe for oven fried chicken takes a family classic and gives it a healthy meal makeover. Instead of frying your chicken in oil, bake it in the oven instead! You'll save in fat and calories, while still retaining that crispy, delicious flavor. Serve with yummy sides like baked butternut mac and cheese, sauteed kale and healthy mashed potatoes. This tasty meal with leave everyone at your table smacking their lips and licking their fingers.
Mexican fiesta
Want to spice things up around your house? How about having a Mexican Fiesta Night with some zesty tacos, Spanish rice, beans, guacamole and homemade salsa. Your kids will love assembling their own tacos, which you can make even healthier by substituting ground turkey for ground beef and topping with low-fat cheese. Use whole-wheat flour tortillas for extra fiber. They taste so good, the kids won't even know the difference! This recipe for healthy refried beans is low in fat and high in nutrition. Need something to cool off after all those spicy flavors? The kids will go nuts for these refreshing aguas frescas made of fresh strawberries, tamarind and cantaloupe. Que sabroso!
Get inspired by these easy ingredient swaps for healthy eating >>
Pasta bar
Kids love pasta. It's one of the best comfort foods around, but traditional white pasta can leave a lot to be desired, nutritionally speaking. How about pulling a whole grain pasta switcheroo and bumping up the fiber in your meal? Grill up some yummy veggies with a touch of seasoning and olive oil. For extra protein, toss some ground turkey or lean ground beef in your sauce. Grate some low-fat cheese and let your kids fix their own plates. Before you know it, they'll be scarfing down everything and asking for seconds.
Homemade soup
Do your kids balk at the site of almost any vegetable? Don't give up yet. There are lots of great ways to sneak healthy veggies into all your favorite family meals. Soup is the perfect hideout. You can puree all kinds of veggies and painlessly sneak them into all your children's favorite soups without them being any the wiser. Try this recipe for chicken tortilla soup. It's full of healthy pureed veggies that the kids will never recognize. To make it even healthier, make your own baked tortilla chips and top with Greek yogurt instead of sour cream.
Check out these nutritious and delicious snack ideas >>
Personal pan pizza night
Pizza does not have to be unhealthy to be good. Make your own homemade pizza and you can sneak in all kinds of added nutrition without anyone knowing the difference. Make your own pizza crust in just 15 minutes with this easy recipe. For added nutrients, swap out some of the white flour for whole wheat. You can use a can of high quality organic pasta sauce or you can make your own sauce and even add in extra pureed veggies. Chop up and lots of fresh toppings like red onion, olives, green peppers, mushrooms, pineapple, pepperoni, low-fat mozzarella and anything else your family loves. Let your kids make their own mini pizzas. When given the chance to add their own toppings, they might even happily try a few new ones!
Still hungry? Check out these healthy summer dessert ideas >>
| | |
| --- | --- |
| | Want to sneak even more nutrients into your daily dinner? Try starting each meal with a bowl of fresh salad or a cup of delicious, healthy soup. |
More healthy meal ideas
7 Healthy summer desserts
Nutritious and delicious snack ideas
Healthy eating tips and tricks
More From SheKnows Explorer