Guilt-Free Desserts
Looking for some tempting summer desserts that won't send your healthy diet into a tailspin? Try some of these to-die-for healthy summer desserts and satisfy your sweet tooth without the guilt!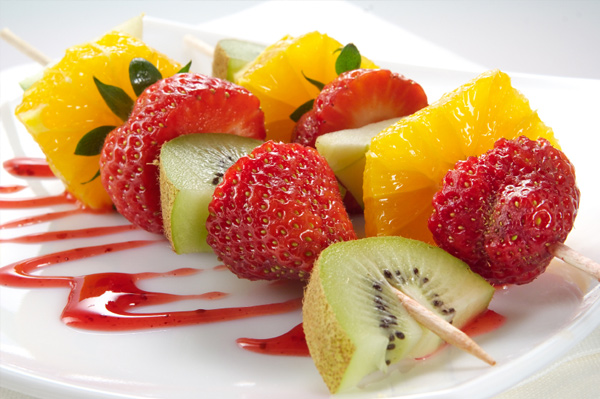 Fresh Fruit Kebobs
Summer is a great time to take advantage of all the delicious fruits that are in season. For a healthy and completely guilt-free dessert, skewer up some tasty fresh fruit kebobs. Big juicy chunks of pineapple, mango, banana, grapes, strawberries, blueberries ... are you drooling yet?
Don't miss these delicious (and nutritious!) snack ideas >>
Light Tiramisu
Traditional tiramisu gets a makeover in this delectable summer treat. There is nothing like the light, fluffy goodness of cream cheese layered with ladyfingers and espresso. This tiramisu recipe will have you licking your fingers and begging for more.
Fruit Pizza
Let's face it. Pizza is always a winner, no matter what's on top. And if you haven't tried a fruit pizza yet, you are in for a mouth-watering surprise. Whip up this skinny dessert with your favorite homemade pizza crust. (Or if you are in a rush, a store bought crust will work in a pinch.) After it's cooked, spread on a thin layer of Neufchatel cheese mixed with just a dollop of the sweetener of your choice. Pile on as many fresh berries as you can handle, dust with powdered sugar and voila! You've died and gone to pizza heaven.
Drunken Chocolate Strawberries
Have you heard the good news about dark chocolate? You don't have to sneak off to the closet to eat your favorite treat anymore. Not only is it no longer on the naughty list, it's being touted as a healing superfood. To make this delicious dessert, use a double boiler to melt a bar of dark chocolate, dip in some succulent strawberries, wait for them to harden and get ready to swoon. These drunken chocolate strawberries are the perfect treat for any summertime soiree.
Find out how to make healthy eating a way of life >>
Chocolate Almond Banana Pops
And while we are still in chocolate heaven, try dipping a few bananas in for a cool, refreshing, guilt-free treat. After dipping in chocolate, roll in crushed almonds, pop a stick in one end and return to the freezer until frozen. Everyone in the family will bow down when they taste this healthy alternative to ice cream.
Fresh Fruit Crumble
Fruit crumbles are a delicious and healthy dessert that your whole family will adore. Use whatever fruit is in season locally and you won't even have to add any additional sweetener to this healthy dessert.
Death by Chocolate Brownies
Are you surprised to find brownies on this list? If so, you probably haven't heard of the secret to lightening your favorite brownie recipe. It may sound strange, but baby food prunes or applesauce can be swapped for butter or oil in almost any brownie recipe for a low-fat version of this decadent dessert. Serve warm over a scoop of frozen yogurt or low-fat ice cream. Shhhh… no one will even know the difference.
| | |
| --- | --- |
| | Want to get the freshest fruit for all your summer dessert recipes? Head on over to your local farmer's market for a selection of the tastiest (and most eco-friendly) produce around. |
Bonus dessert idea!
How to make frozen chocolate banana pops
In this video, Betty demonstrates how to make Frozen Chocolate-Dipped Bananas!
More healthy meal ideas
5 Healthy (but yummy!) family meals
Nutritious and delicious snack ideas
Healthy eating tips and tricks