Have A Mother'S Day Cookout
If your mom prefers to lounge in the backyard to an orchestrated sit-down Mother's Day meal indoors, surprise her with a casual cookout with some of her favorite grilled foods. Here's a succulent, easy to fix Mother's Day grilling menu that will gift your mom with a great grilled meal and an afternoon of warm sun and relaxation.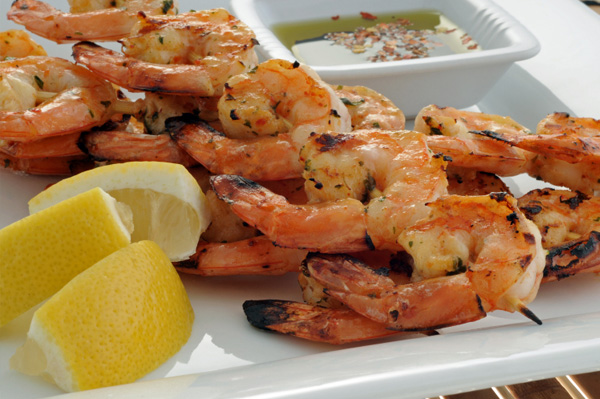 Citrus herb grilled shrimp recipe
Makes 24
Ingredients:
Zest and juice of 2 large oranges
2 tablespoons olive oil
2 cloves garlic, minced
1 teaspoon dried oregano
1 teaspoon fresh thyme leaves
1 tablespoon minced fresh parsley
Generous pinch of salt
Freshly ground black pepper to taste
24 jumbo shrimp (about 2 pounds), peeled, deveined, tails on
Directions:
In a large bowl, whisk together orange zest, juice, oil, garlic, oregano, thyme, parsley, salt and pepper.
Place shrimp in the bowl and toss to coat. Cover and allow shrimp to marinate for 20 minutes, tossing shrimp once or twice.
Heat grill to medium-high heat. Thread shrimp on stainless steel skewers or place in a grill basket and set on the grill.
Grill shrimp for 2 to 3 minutes per side or until shrimp are pink and cooked through.
Set shrimp in a warm serving bowl and serve with cocktail forks for easy picking.
Black bean grilled mango quinoa salad recipe
For your vegetarian guests, serve this protein-packed quinoa salad.
Serves 8
Ingredients:
2 cups quinoa
Zest and juice of 2 limes
3 tablespoons olive oil
Generous pinch of salt
Freshly ground black pepper to taste
1 large mango
3 green onions, root ends trimmed
1 (15-ounce) can black beans, rinsed, drained
1/4 cup finely chopped fresh cilantro
Directions:
Cook quinoa according to package directions; you can make quinoa up to 2 days ahead.
Meanwhile, in a large bowl, whisk together lime zest, juice, olive oil, salt and pepper.
Preheat grill to medium-high heat.
Slice the "cheeks" off the mango pit, discarding the pit. Brush the mango and green onions with the lime vinaigrette.
Set mango and green onions on the grill and cook, turning every minute, for about 4 minutes or until tender and lightly browned.
Chop the green onions and place them in the bowl with the vinaigrette. Peel and dice the grilled mango and place it in the bowl.
Add quinoa, black beans, and cilantro. Toss ingredients until well combined. Serve warm or chilled.
Finger licking good grilled chicken legs recipe
This down home Mother's Day recipe is inspired by The Deen Bros Get Fired Up cookbook. Yes, this scrumptious grill recipe collection was written by celebrity chef Paula Deen's sons. This cookbook is a great Mother's Day gift for the mom who loves grilled meals!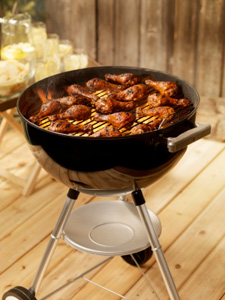 Serves 8
Ingredients:
4 pounds chicken drumsticks and thighs
Salt and freshly ground black pepper to taste
1/2 cup peach preserves
2 tablespoons balsamic vinegar
2 tablespoons minced fresh ginger
2 cloves garlic, minced
1 tablespoon fresh thyme leaves
2 teaspoons minced fresh rosemary
Directions:
Place chicken in a large baking dish and season with salt and pepper.
In a medium bowl, whisk together peach preserves, vinegar, ginger, garlic, thyme, and rosemary.
Pour peach mixture over chicken and toss to coat well. Cover the dish with plastic wrap and marinate at room temperature for 45 minutes.
Preheat grill to high heat and oil the grill grate.
Place chicken on the grill and close lid. Grill for 10 minutes, flip, and grill for 10 more minutes or until chicken is cooked through and the skin is well glazed. If chicken starts to brown too quickly, reduce heat to medium-high.
Grilled pound cake with berry sauce recipe
Serves 8
Ingredients:
3 cups fresh or frozen (thawed) blueberries or mixed berries
Juice of 1 lemon
1 tablespoon finely grated lemon zest
3 tablespoons granulated sugar
1 teaspoon pure vanilla extract
1 store-bought pound cake, cut into 8 slices
1/4 cup melted butter
Directions:
Preheat grill to medium-high.
In a grill-safe pot, combine berries, lemon juice, lemon zest, and sugar. If using fresh berries, add about 1/4 cup water; thawed berries will have liquid.
Place pot on the grill and bring berries to a low boil, stirring occasionally. Let berries continue to simmer, stirring occasionally, until they break down and become sauce like. Remove from heat and stir in vanilla extract. Keep warm.
Brush pound cake with butter and place on the grill. Grill 2 minutes per side or until grill marks form.
Serve cake with sauce. Garnish with whipped cream and fresh berries, if desired.
How to grill vegetables
There's nothing like enjoying the flavor of fresh vegetables whether you grow them yourself or pick them up at the market. One of the best ways to cook vegetables is just to put them on a grill.
More Mother's Day ideas
Have a Mother's Day tea party
3 Homemade pastries for Mom
Boozy shakes for Mother's Day