Breakfast With
The Royals
The world will be watching on April 29th as Prince William weds Kate Middleton in what is likely to be one of the most lavish ceremonies to date. If you don't have a ticket to Westminster Abbey get a front row seat in your own house and enjoy some special English breakfast treats and, of course, Champagne to toast the newlyweds.
(page 2 of 2)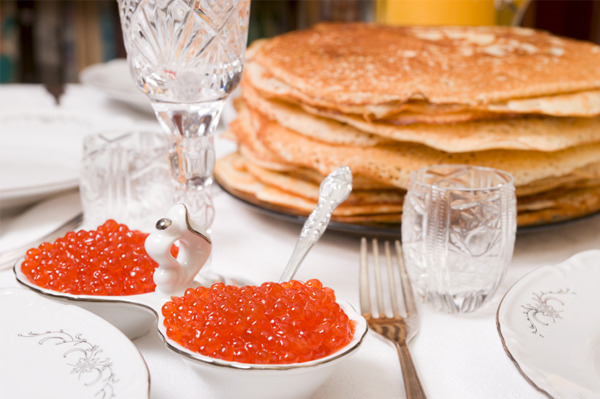 Caviar and Crème FraÎche BliniS
Makes 24 blinis
Ingredients
2 eggs
1 tablespoon granulated sugar
1/3 teaspoon salt
1/2 cup all-purpose flour
2 1/2 cups whole milk
1 tablespoon vegetable oil
1 tablespoon unsalted butter
1/2 cup crème fraîche
2 tablespoon caviar
Directions
Whisk eggs with sugar and salt until frothy; mix in flour and milk until mixture is smooth.
Heat oil on a flat grill and ladle about 2 to 3 tablespoons of the batter onto the grill, batter should spread evenly and pancakes should be fairly thin; let cook about 1 to 2 minutes per side, or until golden.
Remove blini from grill and top each with a little butter; continue until all batter is cooked.
When blinis are cooled, spoon crème fraîche onto each blini and top with a dollop of caviar.
Smoked Salmon Mousse
Makes 8 to 10 servings
Ingredients
6-ounces smoked salmon
2 tablespoon heavy cream
8-ounces cream cheese
Lemon juice, to taste
Chopped dill weed, to taste
Chopped chives, to taste
Salt and pepper, to taste
Directions
Blend salmon in a blender until smooth; blend in heavy cream and cream cheese until smooth.
Spoon mousse into a bowl and stir in lemon juice, dill, chives, salt, and pepper. Serve with mini toast pieces.
Smoked Ham and Goat Cheese Tarts
Makes 6 to 8 servings
Ingredients
1 refrigerated pie dough
2 cups small cubed ham
2 tablespoons olive oil
2 teaspoons chopped rosemary
Fresh ground pepper to taste
3-ounces goat cheese, crumbled
Directions
Roll out dough on a flat surface; using a small round cookie cutter, cut 8 to 10 circles in pie dough and move to a baking sheet covered with aluminum foil.
Sauté ham in olive oil with rosemary and pepper until just browned.
Preheat oven to 350 degrees F. Meanwhile, spread goat cheese on each circle and top with ham; bake for 15 to 20 minutes, or until dough is golden and crispy. Top with a sprinkling of fresh rosemary.
More on the royal wedding
Royal Wedding Fruitcake
Royal Wedding Party Details
Weeklong Royal Wedding Celebration