Nothing Says Spring Like An Afternoon Tea
As the days get warmer and the flowers begin to bloom, celebrate the advent of spring with an elegant spring tea party. If you've never thrown a tea party before, the prospect may seem daunting—but with these quick tips, you'll throw the most memorable party of the season.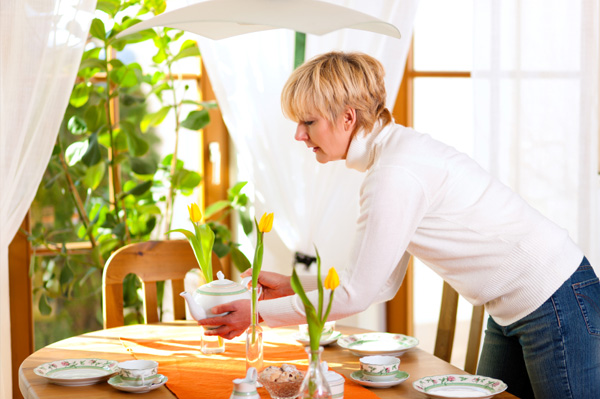 Be thematically inclined
Think carefully about your party's theme. Choose something that signifies spring in a creative way. Rather than staying safe with generic flowers or bunnies, get specific. For instance, a rosebuds and violins theme sets a scene of fresh elegance, while a theme such as fairy dust and ferns conveys a fanciful affair.
Choose your colors
Keep your color scheme simple and reflective of your theme. Stick to two or three colors including a neutral white, cream or blush. The rosebuds and violins tea party would look elegant and understated in antique white, brown, and mauve.
Be inviting
Think carefully about your invitations. You want them to scream, "This party will be fantastic!" You might send invitations in the shape of a teapot or give each guest an inexpensive teacup with the party details written on the outside. Send or hand-deliver your invitations two to four weeks before your party to give guests ample time to plan and respond.
It's all about the tea
Choose one of two serving options: Allow the guests to select teas from a variety of flavored teabags, or brew and serve a specialty tea. If you plan to brew your own tea, consider using dry tea leaves and infuse the tea with fruit rinds or peels for a special flavor. For instance, combine the tea leaves of your choice with orange or lemon peel for a light, fruity flavor.
Dine divinely
Afternoon teas are traditionally served with light finger foods such as small sandwiches, scones, crackers, and fruit. Keep your theme and color scheme in mind when choosing foods to serve. For instance, you might use a flower-shaped cookie cutter to cut out meats, cheeses, and sandwiches if your theme involves flowers. You could also decorate pastries with color-themed icing or jam.
Don't forget the decorations
The ambiance you create at the door will set the tone for your party. Think carefully about your decorations: You'll need music, linens, china, and centerpieces, all within your color scheme and theme. For instance, for the fairy dust and ferns' theme, top your tables with sage linens, white china, and centerpieces made of fern leaves, white candles, and glittery tinsel. Background music of flutes, violins, and clarinets complete the airy, fairytale feeling.
How to arrange the tea table
Here's an instructional 1946 Simmel-Meservey Coronet Film on the proper etiquette of setting the tea table.
More tea party tips
Five Mother's Day party ideas to make Mom feel special
Why tea is good for your health
The Amazing Race: Tea party in India
More From SheKnows Explorer