A Regal Lebanese
Easter Feast
With memories of her beloved "teta" ("grandmother" in Lebanese) inspiring her delicious Lebanese recipes and fruitful time in the kitchen, food blogger and Lebanese Chef Joumana Accad, is passionate about bringing the love of family cooking and traditional Lebanese dishes to home cooks across the U.S. through her blog site, TasteofBeirut.com. Here are three of Accad's Easter recipes that she hopes you will share with your family on this special holiday.
(page 2 of 3)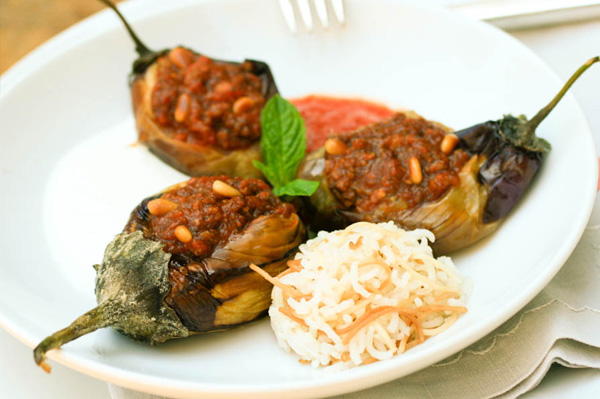 Stuffed Eggplants with Yogurt Sauce (Sheikh al-mehshi be-laban)
Serves 6
"In Lebanese cuisine, there is only one sheikh: The Almighty Eggplant," says Accad. "After sampling this recipe you will understand why...it always comes out unbelievably exquisite, melting in your mouth, silken in texture...well, just plain heavenly."
Ingredients
1 pound small eggplants, mostly peeled (leave a little skin on)
Salt
About 1 1/4 cups olive oil
1 large onion
1/2 pound ground lamb (preferably a bit fatty)
Salt, pepper, paprika, cinnamon, and allspice to taste
1/4 cup pine nuts
1 cup water
1 tablespoon tomato paste
1 tablespoon pomegranate molasses (optional)
3 garlic cloves, mashed with a dash of salt
1 tablespoon dried mint, crumbled
16-ounces plain yogurt
1 tablespoon cornstarch dissolved in 1/4 cup water
1 egg
6 cups cooked rice
Directions
Salt the eggplants in a colander and set aside for 15 minutes, then rub the salt off.
Heat 2 tablespoons olive oil in a skillet over medium heat and gently sauté the eggplants on all sides until they become limp; transfer to a dish covered with paper towels to drain.
Heat 1 cup oil in a large skillet over medium-high heat and fry the onions; add ground lamb and cook, breaking lumps apart with 2 wooden spoons and adding all the spices; drain the meat and onion mixture on a sieve over a bowl.
Collect a couple tablespoons of oil and, in a small skillet, brown the pine nuts for a few minutes; add the pine nuts to the meat and onion mixture.
Slit eggplants through the middle lengthwise to form a pocket, pushing the flesh with a spoon from both sides; place the eggplants in a skillet with any leftover stuffing.
Measure 1 cup of water and mix in the tomato paste and pomegranate molasses, if using; add the tomato mixture to the skillet and cover the skillet. You can use a plate to press the eggplants down, then cover halfway.
Simmer the eggplants gently for 25 minutes or so until the sauce has almost evaporated and the eggplants are meltingly tender.
Meanwhile, heat the remaining 2 tablespoons or so of olive oil in a small skillet over medium heat; add the mashed garlic and mint; stir a few seconds until the fragrance comes out, but do not let it burn; set aside.
In a medium bowl, whisk together yogurt, egg, and cornstarch mixture; pour this mixture through a sieve into a medium saucepan and heat over medium heat.
With a wooden spoon, stir this mixture continuously in the same direction until you see steam coming out of the saucepan; lower the heat; swirl into the yogurt mixture.
Prepare a dish of plain rice and serve the eggplants with rice, covering them with some yogurt sauce.
Up next: Semolina cookies with date paste >>