Kid-Friendly Recipes
Do you have trouble cooking when your kids are home swinging from your ankles and Mod Podging the drapes to the ceiling? How about involving them in the meal preparation? Below are eight easy recipes to get you started cooking with your children. Not only will your kids learn wonderful life skills, but everyone will have a great time and you might even save your dining room from that Mod Podge masterpiece, too!
(page 2 of 2)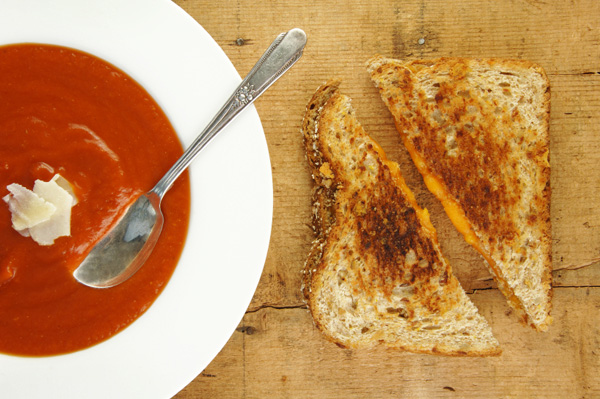 Grilled Cheese and Tomato Sandwiches
There's nothing like a warm, gooey, buttery grilled cheese and tomato sandwich. Have your children spread room temperature butter on slices of bread while you cut slices of cheese and tomato. Let the children layer the cheese and tomato slices onto the bread and close up the sandwiches. Fry until golden brown and serve with a bowl of homemade soup. Yum!
Broccoli and Feta Pasta
If your children are a little older and can be trusted to cut vegetables with a knife, broccoli and feta pasta is a great dish to prepare as a family. Have your kids sit at the table and cut the broccoli heads into small pieces. Discard the stalk. Heat up a little olive oil in a pan. Saute the broccoli until it is just tender but not mushy.
Meanwhile, fill a pan with water and set it on the stove to boil. Once it hits a rolling boil, pour in your favorite whole grain noodles and a teaspoon of oil. Cook until tender and drain. Now have your children mix the ingredients together. Pasta, broccoli, one cup of feta cheese, a dash of salt, 1/2 teaspoon pepper and 2 tablespoons of butter. Mix well and dinner is served.
Ants on a Log
Kids love this yummy snack and it's fun to make too! Wash the celery stalks in the sink and cut into 3 inch pieces. Have the kids spread the peanut butter on top and decorate with raisins. If you have a child who is allergic to peanuts, try almond or sun butter instead.
Tortilla Pinwheels
Another great snack that kids love to prepare is Tortilla Pinwheels. Heat up a group of large whole grain tortillas in the microwave for 20 seconds. Have the children spread room temperature cream cheese on the tortillas. Next, add a layer of thinly sliced ham. Follow this with a layer of fresh basil. Roll the tortillas up tightly and secure with toothpicks. Let chill for 2 hours. Have the kids help cut into thin slices and serve chilled. These are so delicious. Guaranteed there won't be any leftovers.
Related video
Cooking how-to videos for kids
Have a child who is really serious about learning to cook? Check out the many online video tutorials for kids. We think Two Girls and Their Aprons is an especially cute series.
More ways to get kids involved in the kitchen
Teach kids to cook (using a video game!)
Meals kids can make
6 Mom-tested tips to teach your kids to cook