Lighten Up Your Lunchtime Heroes
Sandwiches are the ultimate convenience food. Easy to prepare, store and eat on-the-go, they save many stomachs from going without lunch on a hectic day. When it comes to ingredients, the options are almost limitless. Unfortunately, some of our favorites are the worst on our waistlines. Never fear, there are healthy fixings that will keep your diet intact without taking away flavor.
(page 2 of 2)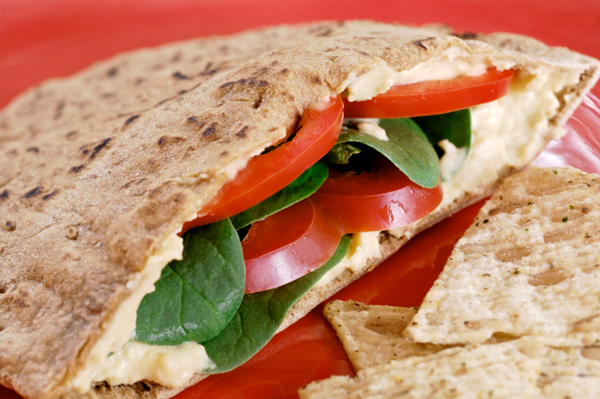 Build a better-for-you sandwich today. If you're not sure where to start, try one of these simple and satisfying recipes on for size.
Ultimate TBLT
For a healthy take on a bacon, lettuce and tomato sandwich, layer lean turkey bacon, fresh romaine lettuce and tomato between two pieces of whole grain toast.
Replace mayonnaise with a garlic-cucumber spread that is made by mixing diced cucumber and 1/8 teaspoon of garlic in 1 tablespoon of fat free cream cheese. Make it a TBLAST by adding slices of avocado and sprouts.
Open-Face Peanut Butter and Berry
So much better with less bread - open up the traditional peanut butter and jelly by replacing that spongy white bread with a piece of sprouted grain toast.
Spread 2 tablespoons of natural peanut butter or almond butter over the toast while it is still hot and then layer fresh berry compote.
To make the compote, mix 2 cups of chopped berries with 2 tablespoons of orange juice and a drizzle of honey in a small saucepan. Cover and cook slowly over medium to low heat, stirring often, until the fruit has turned into pulp. This is a great sandwich to serve at breakfast or lunch, but be sure to come prepared with an extra napkin or two.
The Meddie-Veggie
Fresh and delicious, make a Mediterranean-inspired sandwich by filling a whole wheat pita pocket with hummus, artichoke hearts, fresh spinach, roasted red pepper, cucumber slices and kalamata olives. Need cheese? Add a sprinkle of feta, opting for a reduced fat or fat free brand.
More healthy sandwich recipes