All American Burgers
If there was one food that could be described as "American," no doubt it would be the hamburger. From the grill to the pan, great burger recipes start with quality ingredients like lean ground beef, possibly the Kobe variety for special occasions. Don't stop there; any "burger" connoisseur will agree that some of the best burger recipes don't necessarily have to involve beef.
(page 2 of 2)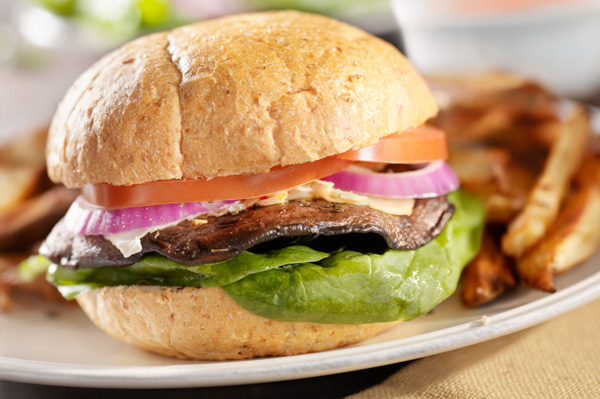 Ga-ga Gorgonzola burgers
Ingredients
1 ½ pounds lean ground beef
1 cup crumbled Gorgonzola cheese
1/3 cup oil-packed dried tomatoes
1 tablespoon fresh thyme
4 cloves minced garlic
½ teaspoon salt
½ teaspoon coarse ground pepper
Directions
In a large mixing bowl, combine ¾ cup Gorgonzola cheese, dried tomatoes (save about 1 tablespoon), thyme, garlic, salt and pepper.
Form the mixture into 6 patties, approximately ¾ inches thick.
Cook patties as desired.
After burgers are cooked, serve on toasted sourdough rolls with sliced red onions and top with remaining Gorgonzola cheese and dried tomatoes.
Easy turkey burgers
Ingredients
1 pound ground turkey
1 packet dry onion soup mix
½ cup water
½ teaspoon salt
½ teaspoon coarse ground pepper
Directions
In a medium mixing bowl, combine all ingredients.
Form the mixture into 4 patties.
Cook thoroughly.
Serve on whole grain oat rolls.
Port of Bella burgers
Ingredients
4 medium portabella mushrooms (no stems)
1 sliced medium onion
3 tablespoons olive oil
¾ teaspoon salt
½ teaspoon ground black pepper
1 sliced avocado
2 tablespoons low-fat yogurt
½ teaspoon minced garlic
4 medium roasted red peppers (jar variety is fine)
4 lightly toasted hamburger buns
Directions
Brush mushrooms and onion slices with oil, sprinkling with ½ teaspoon of the salt and ¼ teaspoon of the pepper.
Heat large skill to medium heat until hot.
Add mushrooms and cook until tender (about 8 to 10 minutes), turning once.
Place cooked mushrooms on plate, cavity side up and cover to keep from cooling.
Combine ½ avocado, yogurt, garlic and remaining salt and pepper in a small bowl and mash until smooth.
Spoon peppers and onions into mushroom cavity.
Spread avocado mixture on the bottom of each bun, topping with the stuffed mushroom and remaining sliced avocado.
What's your favorite burger recipe?

Share in the comments below!
More ways to make your burgers