What To Bring To
A Potluck Dinner
Winter is the perfect time to get together with family and friends to enjoy a fun potluck dinner. If you get invited or want to host one yourself, here are some tips and recipes to prepare some tasty and quick dishes.
(page 2 of 2)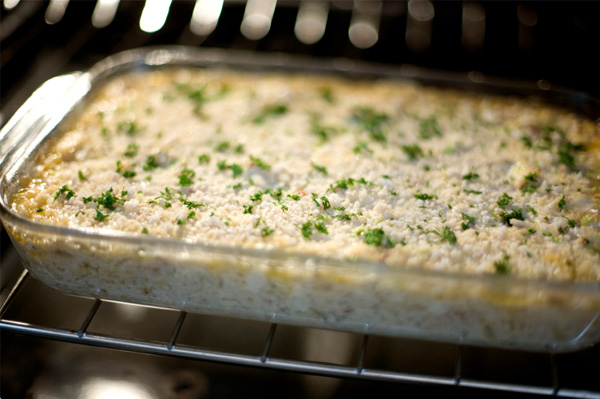 Warm crab dip
Makes 12 servings
Ingredients
1, 8-ounce package cream cheese, softened
3 tablespoons mayonnaise
2 tablespoons Worcestershire sauce
1 tablespoon fresh lemon juice
1 green onion, chopped
2 tablespoons hot sauce
1, 6-ounce can crabmeat
1 cup crumbled goat cheese
Directions
Preheat oven to 350 degrees F.
Add cream cheese, mayonnaise, Worcestershire sauce, lemon juice, onion, and hot sauce to a microwave-safe dish until well combined.
Add crab meat to dish and stir well; sprinkle goat cheese over the top of crab mixture.
Bake for 15 to 20 minutes, or until warmed through. Serve with crusty bread and vegetables.
Crispy Fried Eggplant
Makes 12 servings
Ingredients
4 large eggplants
Oil for frying
2 eggs, beaten
1 cup milk
1 cup all-purpose flour
1 teaspoon salt
1 teaspoon black pepper
1 cup breadcrumbs
Directions
Slice eggplants about 1/4-inch thick and set aside.
Heat oil in a deep skillet until hot but not smoking.
Beat eggs with milk in one bowl, then combine flour with salt and pepper in another bowl. Put the breadcrumbs in a third bowl.
Dip eggplant slices in flour mixture, then in egg mixture, then in breadcrumb mixture. Place coated eggplant in hot oil and fry until golden brown; remove with a slotted spoon and let drain on paper towels. Continue process with remaining eggplant slices.
Classic chocolate cake
Makes 12 servings
Ingredients
2 cups semi-sweet chocolate morsels
2 3/4 cups cake flour
2 teaspoons baking soda
1/2 teaspoon baking powder
1/2 teaspoon salt
1 cup unsalted butter
2 1/4 cups white sugar
4 eggs
1 1/2 teaspoons vanilla extract
Directions
Preheat oven to 350 degrees F and grease a bundt pan with cooking spray.
Place chocolate chips over a double boiler and heat, stirring constantly until melted; set aside.
Combine flour with baking soda, baking powder, and salt.
In a bowl, beat butter with sugar and add eggs one at a time then add vanilla; gradually beat flour into mixture and add chocolate mixture.
Pour mixture into prepared pan and bake for 40 to 45 minutes, or until a toothpick comes out clean.
Let cool for a few minutes, then flip cake over and remove pan.
A potluck favorite
Betty's Party Cocktail Meatballs Recipe
In this video, Betty makes her wonderful party cocktail meatballs. These are little meatballs that are covered with a tangy sauce and placed in a slow cooker until ready to serve with crackers. They're great for game day!
More potluck recipe ideas