Perfectly Grilled Chicken, Every Time
The taste of grilled chicken really can't be beat. Even if you're not entertaining, the mere act of grilling makes mealtime seem like a party.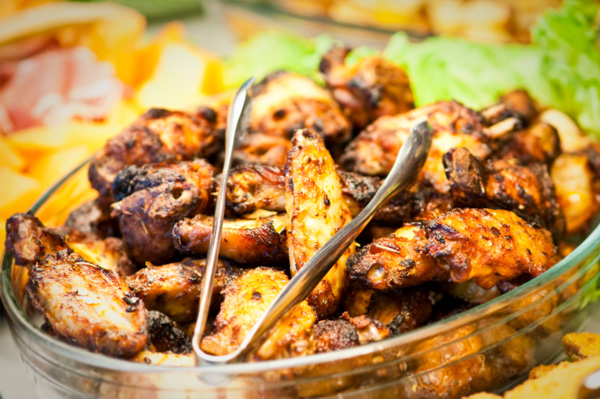 Firing up the grill on a Tuesday night can be like a little celebration, but there's no bigger party pooper than biting into a piece of over- or under-grilled chicken. With so many great options for grilled chicken recipes and fantastic meals, follow these tips to make perfectly grilled chicken every time you grill.
Get up in your grill
So that your chicken doesn't stick to the grill and fall apart, rub or brush the grate with oil or spray it with nonstick cooking spray. Be sure to do this before the grill is heated.
It's getting hot in here
Grill your chicken over medium-high heat. If your grilling heat is too high, you'll end up burning the outside of the chicken and not cooking the inside. To make sure your chicken is well cooked and moist on the inside, resist the temptation to watch the flames dance. When you are cooking chicken breasts that have first been marinated, you really want to ensure the grill isn't too hot, as some marinades have a high sugar content that could lead to burning.
Don't flip out
It may seem like you're helping the chicken along when you continually flip it, but you're not. Follow the instructions of a recipe, or simply keep your turns to one or two times. Your chicken will cook more evenly and quickly when you let it cook properly on each side.
Keep it under cover
There's nothing really to see while your chicken is cooking, so if your grill has a cover, make sure you cook with the top down. Keeping the cover on makes your grill operate more like an oven. It also helps to keep the temperature more consistent and keeps the flames from flaring up.
Tool around
Grilling is a snap with the right tools. Use grilling utensils with long handles so you don't end up grilling yourself along with your chicken. Also, invest in a meat thermometer to help ensure safe internal temperatures of your chicken. Chicken breasts should usually check in at 165 to 170 degrees F when the thermometer is inserted into the thickest part of the breast.
Dress it up at the last minute
If you're using barbeque sauce on your chicken, brush it on toward the end of your cooking time. Brush each side of the chicken with your sauce on its last turn on the grill. Not only does this keep the extra sauce out of the flames (and thwarts flare-ups) but it also prevents the sauce from burning and tasting bitter.
Keep it clean
Make sure you clean off your grill after each use. Scrape the grate with a stiff wire brush while it's still fairly warm. You can also soak your grate in 1/4 cup of grease-cutting dish soap combined with 1/4 cup of baking soda, for about an hour. Then scrub it clean with a wire brush or heavy-duty scouring pad.
More expert grilling tips
Bobby Flay's grilling tips
Chef Bobby Flay gives his top 3 three tips for a great meal every time.
More grilled chicken recipes
Nothing beats the great taste of perfectly grilled chicken. Whether you're grilling for a summertime picnic or trying to melt away the winter blahs, check out the following recipes for unique tastes great for any occasion: