Best Game Day
Recipes
You can't watch the big game without noshing on some yummy chicken wings. We have rounded up the best recipes for chicken wings, including spicy, teriyaki, healthy and quick and easy. These lip-smacking recipes will make you the hit of the game day party! Getting hungry yet?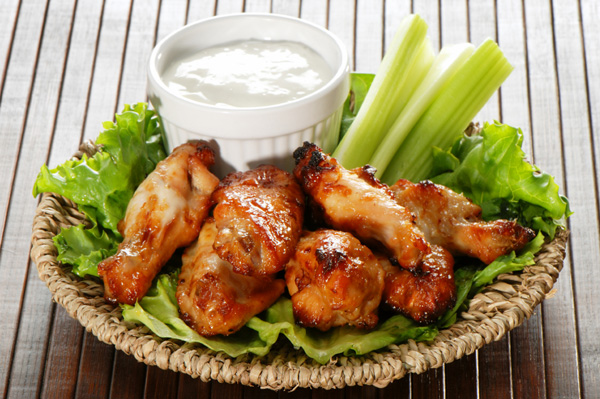 Spicy chicken wings
These spicy chicken wings are low in carbohydrates and ultra-tasty! "This recipe is a must-have for football games," says Rona Lewis, author of Does This Cookbook Make Me Look Fat? Vol. 2-Healthy Recipes for Entertaining.
Serves 6
Ingredients
Butter spray
16 chicken wings
½ tsp garlic powder
½ tsp cayenne pepper
½ tsp paprika
½ tsp onion powder
2 tbsp parsley leaves, chopped small
Black pepper to taste
Directions
Singe the wings over an open flame to remove any feathers. Rinse them and pat dry with a tea towel.
Preheat the broiler.
Mix all of the spices together in a bowl. Spray wings with butter spray on both sides.
Place the spices in a bag, adding 3 or 4 wings at a time, depending on how big the bag; shake to coat wings.
Place wings in a single layer on the broiler pan or cookie sheet.
Cook for 2 minutes. Turn them over and cook for another two minutes.
Repeat those 2 steps for a total of 8 minutes. Serve immediately.
Bangin' buffalo chicken wings
"Skinning the wings is a pain, but it's worth it for those watching their weight," says Kim Bensen, author of Finally Thin!
Serves 8
Ingredients
½ cup Franks® Red Hot®
½ cup Franks® Buffalo Wing Sauce
3 lbs chicken tenderloins or wings, skinned
Directions
In a large pot, boil the chicken for 15 minutes. If using wings, do not let the chicken fall off the bone.
Remove from water, cool until easy to handle.
Carefully pull the skins off each piece.
In a baking dish, combine the two sauces, add the chicken and stir well.
Cover and bake for 30 minutes at 350º. Uncover and stir well.
Bake an additional 10 minutes, uncovered.
Serve with fat-free blue cheese dressing and celery sticks.

Baked chicken wings
Thasneen, founder of Cooking with Thas, confesses this is her favorite recipe for chicken wings. The fact that they are baked means they are crunchy, delicious and figure-friendly! She says the secret to making these crispy and delicious is to marinate them for at least an hour and a half.
Ingredients
Chicken wings, skinless or skin-on - 10-12 no's
For marination
All-purpose flour- 1/2 cup
Paprika- 1/4 tsp
Cayenne pepper or chili powder- 1/4 tsp
Salt- 1/4 tsp
For making the hot sauce
Butter- 1/4 cup
Hot sauce- 1/4 cup
Ground black pepper- 1 dash
Garlic powder- 1 dash
Directions
Preheat the oven to 350F.
Clean the chicken wings; if you want you could remove the skin or keep it (it's up to you).
In a small bowl, combine all-purpose flour, paprika, cayenne pepper or chili powder and salt.
Place the chicken wings in a large glass bowl.
Coat the wings evenly with flour mixture.
Cover the dish with a plastic wrap and keep it in the refrigerator.
Let marinate for an hour or 90 minutes.
Spray a baking sheet with non-stick cooking spray, preferably Pam.
Place the marinated chicken wings on the sheet and lightly spray the wings with Pam.
Bake for initial 45 minutes at 350F.
After 45 minutes of baking, increase the oven temperature to 375 F.
Take the wings out and spray them with Pam or any cooking spray.
Bake them again at 375 F for another 10 minutes; this makes the wings crispy.
Make the sauce while the wings are baking.
Heat a saucepan over low heat, add the butter, hot sauce, ground pepper and garlic powder, stir together.
Let the butter melt and stir until the mixture is well blended.
Remove from the heat and pour the sauce over the baked crispy chicken wings.
Teriyaki chicken wing drumettes
"These saucy drumettes are a big hit at every gathering," says Cynthia Briggs, newspaper food columnist and author of Pork Chops & Applesauce A Collection of Recipes and Collections.
Ingredients
3-4 pounds chicken drumettes, rinsed and patted dry
Garlic powder (not garlic salt)
1 1/2 tablespoons fresh ground ginger or 1 tablespoon dried ginger
1 cup light soy sauce
1 1/2 cups sugar or 3/4 cup sugar and 3/4 cup Splenda®
1/4 cup water
Toasted sesame seeds
King-size napkins
Directions
Preheat oven to 250 degrees. Cover a large baking sheet, such as a jelly roll pan, with heavy duty aluminum foil.
Arrange chicken drumettes in one layer with skin side up; sprinkle generously with garlic powder; set aside.
In a medium size bowl, combine ginger, soy sauce, sugar and water (a bowl with a pouring spout works well); stir until sugar begins to dissolve.
Pour soy sauce mixture over chicken drumettes, trying to coat chicken as much as possible.
Bake for 60 minutes, uncovered; turn drumettes bake for another 30-45 minutes. Turn drumettes one more time.
The teriyaki sauce will begin to thicken at this point. Continue baking and turning every 5-10 minutes until sauce reaches a molasses-like consistency and is sticking nicely to drumettes. Total baking time should be approximately 2-3 hours.
Drumettes can also be prepared in an electric frying pan or the crockpot, but the result is more caramelized and sticky-gooey when baked in a conventional oven. If made in a crockpot, watch them closely so they don't overcook and fall apart.
Remove drumettes and sauce to a warmed serving plate; garnish drumettes with sesame seeds. Serves 12 (5 drumettes per serving).
Margarita chicken wings
Briggs also contributed this recipe for chicken wings – South of the Border style!
Ingredients
3 pounds chicken wing drumettes
1/4 cup tequila
1/4 cup olive oil
2 teaspoons salt
1/2 teaspoon freshly ground black pepper
2 cloves garlic, minced
1/4 cup onion, finely diced
1/4 teaspoon dried thyme leaves
3/4 teaspoon ground cumin
1/4 teaspoon paprika
1 tablespoon fresh cilantro or parsley, chopped fine
4 limes
Directions
Wash and pat dry chicken wing drumettes; place drumettes in glass or plastic container arranging in a single layer.
Combine tequila, olive oil, salt, black pepper, garlic, onion, thyme, cumin, paprika and cilantro; stir well and drizzle marinade over chicken drumettes.
Roll limes on a hard surface; cut in half and squeeze juice directly onto drumettes; cover and marinate in refrigerator for 2 hours; turn drumettes and marinate for 2 more hours, or overnight.
Approximately one hour before serving time; preheat oven to 400°. Roast drumettes uncovered for 50 minutes; basting every 10-15 minutes.
For extra crispy drumettes, place under broiler until desired crispiness is reached. Serves 6 (4-5 drumettes per person). Ole!
More chicken wing recipes
More From SheKnows Explorer